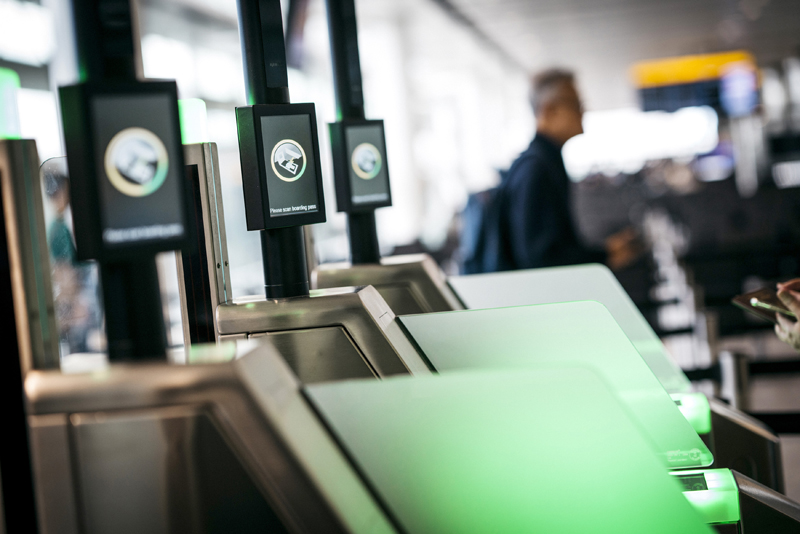 Looking for new ways to make it easier and quicker for passengers to travel through the airport and board aircrafts quicker, Heathrow Airport has commissioned dormakaba to supply and install self-boarding gates integrated with Heathrow's biometric system.
Heathrow Airport is the second busiest airport in the world by international passenger traffic. In 2018, it handled a record 80.1 million passengers, and 480,339 aircraft movements. Simon Wilcox, Heathrow Passenger Automation Programme Lead, wanted a way to make it easier and quicker for travellers to pass through the airport – without having to compromise on security. As such, the automation programme required implementing biometric gates that would bring facial recognition to each point of the departing passenger's journey.
The new technology uses facial recognition at check-in, bag drops, security lanes and boarding gates to create a seamless experience for passengers walking through the airport, with less physical contact and face to face engagement between staff and passengers required.
After reviewing the requirements for the airport, dormakaba recommended and supplied its HSB-M03 Self Boarding Gates and PaxCheck Self Boarding Solution.
Andy Carter, Contracting Business Sales and Operations Director at dormakaba UK said "Heathrow required a bespoke and technically capable system to allow it to cope with passenger numbers whilst also providing a seamless passenger experience. The final project looks to have over 400 gates installed across the whole airport. Each one has our software on the gates, incorporating Heathrow's biometric data, as well as a connection to the management server."
Currently, Terminals 2A, 2B and 5A have been completed, with Terminal's 3, 4, 5B and 5C scheduled for completion by end 2020. Completed terminals now benefit from a self-boarding solution that adheres to all the latest relevant security and build standards as well as third and fourth line support from dormakaba.
Across these completed terminals, passengers present their boarding pass to a reader on the gate, which then scans and checks the pass with the airline's Departure Control System (DCS) and either opens or remains closed depending on the response.
For passengers departing on domestic flights, the gate also uses facial recognition technology, with its installation being partnered with the airport's chosen biometric provider Atkins, to verify that the passenger boarding the aircraft either entered the airport through the front door or has been through a UK Border Force check since arriving on an international flight.
The self-boarding solution also includes a web-based administration programme, PaxCheck, that allows for management of the gates and sends reports of passengers and when they passed through – allowing for faster boarding, and fewer staff. This also means airport and airline management can have live stats on the numbers of passengers passing through the gates in any given period, to ensure compliance with government and travel guidelines.