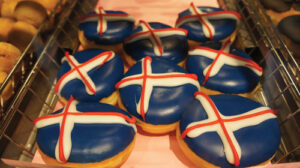 A Milestone Systems Network Video Recorder (NVR) solution is being used by Dunkin' Donuts in Iceland to optimise security and avoid defacement of their branch properties.
The restaurants are located in the city centre of Reykjavik, Iceland, where big city annoyances such as graffiti and window smashing can be a problem. Dunkin' Donuts needed a solution that would help them avoid damage to their properties and to ensure the clean appeal of the chain and the safety of employees and customers.
Milestone Platinum Partner Security Center Iceland installed a Milestone Husky M30 NVR in each Dunkin' Donuts restaurant with each unit managing eight to ten Vivotek cameras located inside and outside the branches. This allows Dunkin' Donuts managers to keep an overview of their entire restaurant.
The investigation tools combined with an easy-to-manage timeline in the Milestone software enables the restaurant managers to examine incidents quickly and accurately. That makes it possible to catch wrongdoers and provide evidence to the police if needed. The system also has a deterrent effect; after the branches opened they have had zero incidents of damage, saving the company the costs of having to restore property.
According to the restaurant managers, the presence of the Milestone video security system has also proven important for creating a sense of safety for the staff.