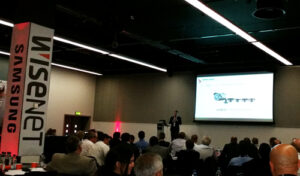 While the Samsung Techwin name has now changed to Hanwha Techwin it was revealed this week that the Samsung branding will not be disappearing from the company's products and literature just yet. Speaking at the WiseNet European Conference in Weybridge, Head of Marketing Justin Hollis informed delegates from across the industry that the company would measure and monitor brands before making any transition.
The intention is to build WiseNet into a superbrand following research that showed the company that customers find familiarity to be key. "Once asking for WiseNet becomes 'second nature', that is the day for a natural transition," said Justin. "Each brand has its own equity and our core brand is WiseNet."
It was also revealed at the event that Hanwha Techwin will be launching 60 cameras, 9 NVRs and 10 software solutions in 2016. The camera portfolio will be extended to include WiseNet Q, WiseNet P and WiseNet X ranges and a new innovation will be its Wisestream compression technology which reduces the bandwidth demand of surveillance solutions.
Hanwha Group has also set itself the target of being ranked in the top two of video surveillance companies by 2020.