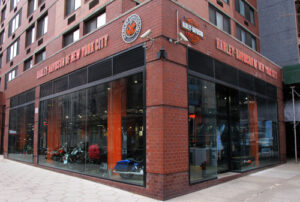 Wavestore Video Management Software (VMS) is helping to maintain a high level of security at two Harley-Davidson dealerships in the US.
Harley-Davidson of NYC Tribeca is a unique two-level space in the heart of New York City. The Manhattan located dealership is run by Asaf Jacobi, President of Harley-Davidson of NYC, who also has responsibility for the Harley-Davidson of NYC's main dealership in Queens, NY.
With a requirement to deter would-be thieves, as well as create a safe and secure environment for staff and visitors at both dealerships, Asaf Jacobi turned to New York based systems integrator, AISG.
Asaf wanted a full turnkey solution which would not only cover his security requirements with alarm and video systems, but also provide the media needs of the store with a state of the art monitor wall and sound system.
Wavestore was selected for the video surveillance part of the project. An old analogue video surveillance system in the Queens store was upgraded to a hybrid system, whilst the Manhattan dealership was equipped with a total IP network  solution.
AISG worked with the Harley NYC IT department to set up remote alarm and video monitoring, as well as local networks, whilst a Wavestore management and storage server was set up to support  domes and 360 degree cameras manufactured by Vivotek.
"With a lot going on at both locations, the ability to view the stores remotely, gives me mobility and more freedom to move around. The system is reliable and offers flexibility. Plus, it is easy to use, and as I learn more, the product gets consistently better over time," said Asaf. "You can really tell the difference. The new system is more effective. I am able to zoom in and focus on one area and get a really clear image."