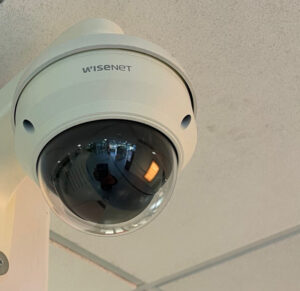 The University of the West of England (UWE Bristol) serves over 30,000 students from 140 countries. It has over 3,200 staff, and is one of the largest universities in the UK.
Over the past five years the university has invested over £300 million in its facilities and it needed a video surveillance system that matched. It previously had a CCTV system over a decade old, which wasn't fully operational and regularly had downtime issues. The UWE Facilities-Estates team looked for a solution that would help maintain operational security in order to keep students and staff safe 24/7, that could scale across its different campuses, and that would bring video surveillance up to date with modern technology.
The instruction to install the new video surveillance system, which features cameras and the WAVE video management system (VMS) sourced from Hanwha Techwin, was awarded to KSCM, the university's incumbent CCTV maintenance contractor.
Keyton Matthews, Director and Owner, of KSCM said: "The new Wisenet cameras and WAVE VMS have equipped the university with much improved quality footage, increased reliability and uptime, as well as future-proofing for the university's future plans and needs."
The team carried out a phased upgrade of its existing video surveillance system so having the ability to support both the legacy cameras and new Wisenet cameras on a single WAVE VMS was a significant operational benefit. Three-quarters of the university's CCTV cameras (around 150+ devices) have now been replaced, along with all recorders and the VMS. The Wisenet solution was also chosen as it had improved quality cameras and footage, with greater cost-effectiveness when it came to the devices' and VMS' lifecycle.
Along with the new cameras and VMS, the team also installed new CCTV client computers and improved screens in the Frenchay Campus control room.
When an event occurs, the UWE team can look back through video footage to understand important contextual information like when the event occurred, who was present near the event, and any damage that occurred. They can also closely monitor any higher risk areas like campus entrances and receptions, and see who is entering and exiting the university property.
UWE has also invested and recently upgraded its automatic number plate recognition system (ALPR/ANPR) and cameras to more accurately identify the vehicles entering and exiting its sites. The system has been upgraded to detect not only the number plate, but also the make, model, and colour of vehicles to offer even more situational awareness.