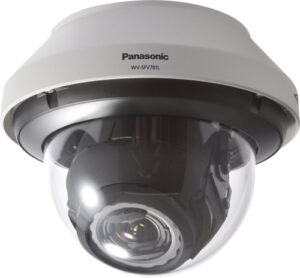 Panasonic has launched the WV-SFV781L dome camera which delivers what the company is describing as True 4K image quality and resolution at both the centre and the corners of the image. The True 4K camera can cover a view four times larger than 1080p cameras, and a view nine times larger than 720p cameras. It can also cover two and three times the distance of 1080p and 720p cameras respectively.
Speaking at an event in the Tower of London, Steve Proctor Group Manager CCVE at Panasonic explained how a single 4K unit can replace a number of cameras thus reducing the installation costs and also the amount of management and maintenance needed post installation. The company claimed that savings of around 50% could be achieved by utilising 4K technology. Steve also dealt with the infrastructure question surrounding 4K stating that it is only post event (for analytics etc) that the full resolution image would be viewed; live transmission would be at a lower level. This solved the often-raised point of "what are you going to watch it on" when it comes to 4K CCTV footage.
The 1/1.7 type sensor in the WV-SFV781L, in combination with the Panasonic True 4K F1.6 lens, achieves low light performance at 0.3 lux in colour or 0.03 lux in black and white mode. The camera also has Smart IR-LED making it possible for clear and sharp pictures at 0.0 lux across the 4K image. The rain wash coating helps reduce maintenance costs and helps avoid the effect of the drops and dust. Virtual PTZ operation allows the user to focus on one smaller area in view whilst still recording the whole area, so no event is missed in mission critical applications.