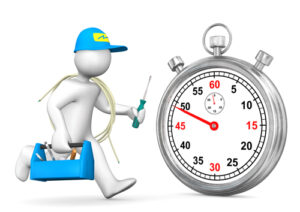 Brett Ennals, CEO of Fire & Security Jobs, discusses the implications of the recent European Court of Justice (ECJ) ruling on both employers and employees
What does "working time" for employees really mean? The issue was recently raised in a Spanish case between Tyco Integrated Security and a group of technicians employed by this reputable security business.  The technicians were required to install and maintain equipment at varying premises, depending on the customer location.  Each day, they were expected to travel distances of up to 100km (62 miles approx.) to and from home to these appointments.
Tyco argued that travel time to and from these appointments did not count as official working hours, with the working day only starting once technicians arrived  at the first customer appointment.  The ECJ rejected this argument, ruling that when employees have no set place of work, travel time amounts to working time.  The ruling went on to state that such travel time started from the moment an employee left  home to travel to the first place of work, and only ended once home from the last place of work each day.
This ruling was based on the principles of the Working Time Directive (WTD) that requires all EU countries to adopt the same minimum working hour standards. As the security sector comprises of many field engineers and sales forces, this ruling could mean real changes across the industry. It will impact employers and employees differently, and it is important both sides understand the potential implications and take necessary action.
Travel time to and from appointments for mobile workers with no set place of work will now count towards the 48 hour working week.  This will alter previous arrangements with work hours and rest breaks and in some cases, may require employers to increase wages to avoid breaching existing legislation regarded  the national minimum wage and national living wage.
Read the full article in the February edition of PSI magazine