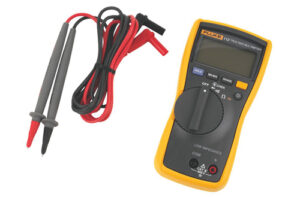 The Fluke 113 Digital Multimeter gives users the means to quickly and easily do basic meter set and reconnect testing. This meter is described as simple-to-use and has the features needed to repair most electrical problems.
According to the manufacturer the 113 has benefits over other digital multimeters available on the market, including Fluke model 7-600. Using the VCHEK LoZ low impedance measurement function, users can simultaneously test for voltage or continuity. The Min/Max function lets you record signal fluctuations. The Fluke 113 can perform diode tests, and also provides both auto and manual ranging capabilities. Features include conformance to the latest safety standards, backlight, and a much larger display that's easier to view.
The multimeter is priced with a current RRP of £129.99. The product packaging contains the Fluke-113 unit itself, test leads and manual. The meter is powered by a 9V battery and specifications state an alkaline battery life of 300 hours typical, without using the backlight. Optional accessories include a soft case, hanging kit and a three-lead test set.
The unit complies with ANSI/ISA 82.02.01 (61010-1) 2004, CAN/CSA-C22.2 No61010-1-04, UL 61010-1 (2004) and IEC/EN 61010-1 2nd Edition for measurement Category III, 600 V, Pollution Degree 2, EMC EN61326-1 and for EMI regulations it complies with FCC Part 15, Class B.
We asked Gordon McKeown, Projects Manager at Hadrian Technology, and a Fluke system owner for over 17 years to take a look at the unit and take it out on the road to test it in real scenarios. Here are Gordon's findings on the 113 multimeter.
What jobs did you use the product for? "Fault finding on printed circuit boards on a camera and also looking at the performance of capacitors and diodes on other equipment as well as voltage drop on long cable runs."
What did you like about the unit? "It's a quality piece of kit with a quick response. The back light makes reading the display nice and easy."
What did you not like about the unit? "Only the fact that it can't do load readings – but then again it wasn't designed to do this and a higher spec model would provide the solution."
Would you recommend this product? "Yes. If you need a solid, reliable and accurate multimeter then the Fluke 113 certainly fits the bill on most levels. The backlight makes it so easy to read in light restrictive environments. It is not polarity conscious, and can determine whether there is voltage or continuity present (and both at the same time). When I stated that it fits the bill on most levels, the only downside being that it does not measure current so unfortunately it cannot completely replace my aged trusty Fluke 77 – which I use for load readings of the amp range."