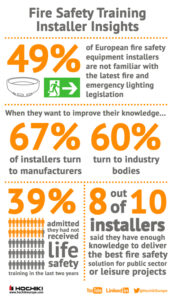 A study from Hochiki Europe has delivered a stark warning to the fire safety industry, finding nearly half (49%) of European fire safety equipment installers are not familiar with the latest fire and emergency lighting legislation.
According to the survey of European fire equipment installers, over two thirds (67%) are looking to manufacturers specifically to improve their knowledge on fire and lighting safety legislation. This is closely followed by industry bodies, with sixty per cent of respondents saying they turn to professional associations to learn about the latest legislation.
Paul Adams, Deputy Marketing Manager at Hochiki Europe commented on the findings: "To think that nearly half of European installers we spoke to do not feel fully comfortable with current legislation is a shock. As manufacturers, we clearly need to step up and take responsibility for improving their understanding."
In the study nearly two-fifths (39%) of respondents admitted they had not received any fire or emergency lighting training in the last two years. Yet, ninety per cent of installers felt that their clients would benefit from them receiving more training.
Of those that had received training, three-quarters felt confident or very confident in understanding different types of fire safety technology, and recommending and designing a fire safety solution.
The study also examined confidence within key industry sectors, and revealed that eight out of ten (83%) installers feel they have enough knowledge to deliver the best fire safety solution for public sector or leisure projects. Conversely, less than a fifth (18%) said they felt this way about offshore environments, a key growth sector they could be missing out on through lack of knowledge.
Paul Adams concluded on the findings: "It's not surprising that many installers across Europe are struggling to keep up with legislation when they may have not received any training in the last two years. The results suggest that installers do understand and see the benefits of training on their ability to carry out projects effectively. It's clear that we now have to come together as an industry to ensure that the correct training is being promoted and delivered across the board. Not only will this help installers feel more confident in their jobs, it will protect the lives of people across Europe by ensuring all fire safety standards are met on every project."