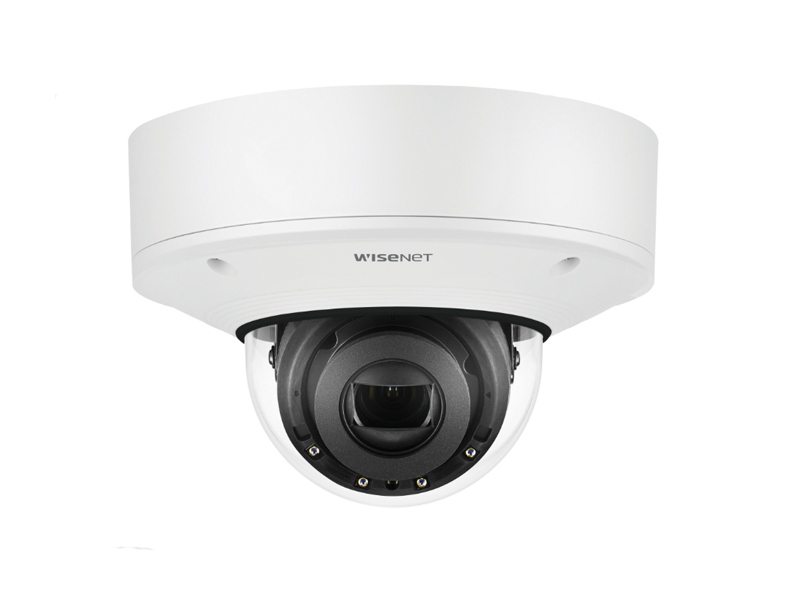 The XNV-8081RE is from the Wisenet X range and incorporates a PoE extender capability to simplify cabling infrastructure when installing a second camera within 80 metres of an existing position. The dome is based on a 1/2.8" 5MP CMOS sensor with a stated 0.07 Lux colour sensitivity and IR LED monochrome illumination. The housing has an IP67 environmental rating with IK10 impact resistance for outdoor use.
Getting started
The camera can be powered from a PoE port and has a typical power requirement of 10.2W however, a major benefit of this camera is that it includes an RJ45 PoE output connector that is used to feed an additional camera. This PoE output port can supply up to 12.95W to the extension camera with a cable length of up to 80 metres. For this, the main camera must be supplied from a PoE+ port (IEEE802.3at, Class 4) with a 25.5W capability.
A weather cap is provided for additional protection if required, when wall mounted, this helps protect the dome from rain and provides some sun shielding. The dome camera is supplied disassembled with the electronic module boxed separately from the housing. This allows the module to be easily workshop configured prior to visiting site.
Installation is a straightforward matter with a mounting plate being secured to the ceiling or wall first, and then the camera casing is attached to this. A side aperture is available for conduit feed if required. The cables are fed through the grommets in the casing base with a cap installer to fit over the RJ45 connector to help ease it through. Additional single and dual entry grommets are provided.
Once the housing is in place and the relevant cables fed through, the dome module is fitted and held in place by a strong magnet in the camera module's base that attaches to a steel plate in the aluminium housing. Three domed lugs ensure firm positioning. A "Pull" loop is in place to ease removal, this makes it very easy to remove the module for removal or insertion of storage devices. The dome cover is then held in place by four captive Torx screws.
A seven-way connector is used for the alarm in/out and Audio in / out feeds and a 2-pole connector is provided for connecting the analogue video output into a test monitor.
If a second camera is connected, it is just fed from the PoE output port and no additional configuration of the main camera is required as the port is enabled by default. Standard RJ45 LED indication is provided on the output port so you can confirm connection and status and that data is flowing.
Operation
Once powered up, the camera is initially DHCP enabled so will be given an IP address by your local router or will have a fixed address of 192.168.1.100. Hanwha's IP Installer program can be used to find cameras on the local subnet and change IP addresses.
Once the IP address is known, this can be used to call up the camera via a browser. At first connection a "strong" password must be entered before continuing.
The initial live screen has options at the top to switch between Live view, Playback (of SD card or NAS) and Setup. Lower icons provide PTZ, Capture, Record, Pixel Count, File Type (AVI or ZIP), Alarm Output, Speaker, Microphone, Audio Play & Stop, Profile Information, Aspect Ratio, Video setup and Full Screen display.
A straightforward Setup menu system allows configuration changes to be made, as usual it is important to remember to "Apply" the changes for many of the settings as it is sometimes necessary to scroll down to see the apply and cancel buttons.
An operating temperature range of -50°C to +60°C is given as long as the start-up temperature is above -35°C.
In addition to the bi-directional audio channels, the camera can store and replay up to five messages, stored as WAV files with a total size of 3MB. These can be activated from the Browser or video management system, event triggered or scheduled to suit.
Dual micro SD card slots are provided for local edge storage. These can be up to 512GB each for a total of 1TB edge storage.
Read the full review in the September edition of PSI magazine