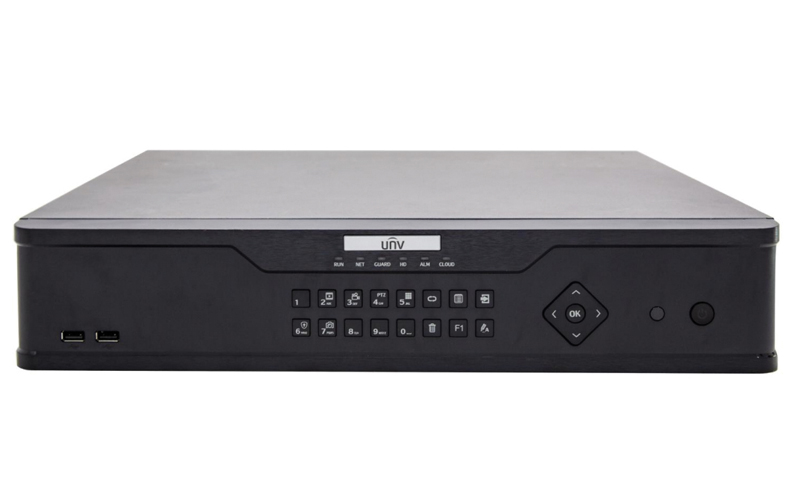 The NVR308-32E-B is the 32-channel model of the 308 range that includes 16 and 64 channel variants. It supports up to 12MP recording and has capacity for up to 8 internal hard drives of up to 10TB each. Storage can be configured as RAID 0, 1, 5, 6 or 10. ONVIF support for third-party cameras and de-warping modes for fish-eye camera views. It is a 2U height rack mountable unit with dual HDMI display outputs.
Getting started
The NVR can be supplied with or without drives fitted and is provided with eight SATA leads and mounting screws for the full complement. This particular model was supplied with a 2TB WD "Purple" drive pre-fitted. Installing or changing drives is straightforward with just two screws holding the top cover in place. Drives are fixed to one of two brackets that cross the width of the chassis with the top bracket allowing its four drives to be fitted without removal. Use of the lower bracket needs the upper bracket to be removed to gain access but this is just held in place by two screws and removes easily. All power connections are pre-wired from the internal PSU.
The case houses an enclosed PSU and the single PCB that provides all channel processing and SATA connections to all drives. A side mounted continuous fan draws air across the PCB and this and the PSU fan are relatively quiet in operation.
The unit has two RJ45 network ports, both 1Gb/s capable. Two HDMI ports, a BNC CVBS plus a VGA connector are for video outputs with one of the HDMI supporting 4K displays. RCA (phono) single channel audio in and output. 16 alarm inputs and 4 alarm outputs. The multi-connector block also supplies RS485 data and a 12 volt output (though no maximum current is given). An eSATA connector is provided for external storage and finally two front and one rear USB ports.
At power-up after a short duration splash screen followed by the UNV logo you are presented with a log-in screen. After logging in with the initial default passcode you are forced to enter a strong password before continuing. An unlock pattern can also be entered at this point.
After password configuration you are presented with a lengthy Privacy Policy page equivalent to around six A4 pages that you must agree to before continuing. This commits you to accepting several clauses relating to holding and sharing data with "authorised partners" and national authorities. These largely relate to use of Uniview online services and oddly if applying for a job with them, but if used as a stand-alone device may be considered irrelevant. There does not appear to be any opt-out or selective acceptance and most likely will be dealt with by the installer rather than the end user.
A Wizard screen then provides a QR code for an optional sign-up for remote connectivity, followed by Time & Date then Network Connection where DHCP is enabled by default.
The final stage is to enter network cameras. All discovered UNV and ONVIF cameras in the local subnet are displayed and these can be added, or their connections modified at this point. Adding is simply a matter of entering their connection details including username and password. A useful Sort feature allows the order to be changed after entry.
Read the full review in the June 2020 edition of PSI magazine