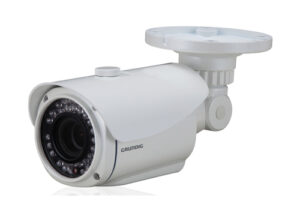 This is an IP66 day / night 2 Megapixel HD bullet camera with integral IR LEDs using Ex-SDI transmission to extend the range over the HD-SDI standard.
Features
1920 x 1080p at 25 or 30 images per second. Stated as 30 to 45 metre IR responsiveness dependant on scene reflectance. The ability to vary the light output means that this can be configured to suit the location's likely subject distance or simply reduced to extend the life of the 42 LED array.
Performance
Supplied with a lead consisting of two BNC feeds, one for the HD output and one for an SD output and a 12vDC / 24vAC power connection. The mounting arm allows for easy wall or ceiling fitting.
A removable cap on the underside of the camera gives access to the varifocal lens zoom and focus controls, a two pin video output connector for engineering use, a variable LED level control and a mini-joystick switch to access the camera menus.
The varifocal lens adjustment is quite tricky to get right especially when mounted at height but once set the locking screw fixes the position cleanly with no focus shift.
A plastic adjuster tool is provided to assist with these adjustments.
The SD video output was a standard 1v p:p signal with good levels of sync pulse and colour burst so could potentially be used to drive a local monitor although the output does not give the full image size of the HD output.
Menu Options
The menu structure is all controlled by the joystick switch and starts with a top level menu that has options for the following:
Preset Mode – Outdoor (default), Lowlight, Hallway, Indoor or Elevator
Menu Set-up – Takes the user to the main configuration menu
Mode Select – Ex-SDI (default) or SDI
Exit – Return from menu
Main menu options:
1) LENS – DC (default) or Manual
2) EXPOSURE – Brightness, Shutter speed, Sens-up and AGC level
3) BACKLIGHT – Off (default), HLC inversion or BLC
4) DAY & NIGHT – Extern (default), Auto, Colour or B&W
5) WHITE BALANCE – Auto (default), AWB, AWC or Manual
6) DNR – Middle (default), High, Low or Off
7) IMAGE – Sharpness, Colour Gain, Gamma, Mirror, Flip D-Zoom and D-WDR
8) DIS – Off (default), On (zooms in by approximately 20%)
9) MOTION – Off (default) or multiple settings to zoom in on activity and trigger alerts
10) SYSTEM – Comms ID and Baud rate, Frame rate, Freq, Language, Titles and Reset
11) RETURN – Back to top level menu
The image submenu also has options for Defog, Shading and Privacy zones to be activated.
Conclusion
A very well featured camera that gives good results with a compatible HD-SDI recording system. Relatively easy to set up and configure and reasonably engineer friendly.
Read the full review in the September 2015 edition of PSI magazine.