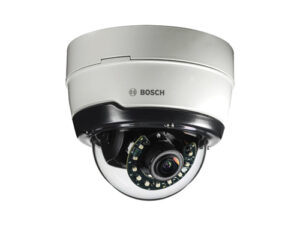 This is a compact, easy to install, ONVIF compliant dome with a remote zoom and focus 3mm to 10mm auto-iris lens. It provides up to two 1920 x1080p streams with a third using MJPEG. Both H.264 and H.265 are supported. A wide selection of video analytic features along with local alarm input & output connection and audio line in and out. Infrared illumination is quoted to 30 metres.
Operation
The dome is set to DHCP by default so if connected to a suitable configured network will be in the local subnet. The dome identified itself on the network as being from the Bosch subsidiary VCS (Video Communication Systems AG) rather than Bosch.
At first browser connection you are prompted to create a 'service' password but it is not immediately clear that the username for this is "service". Once entered an immediate live camera image was shown with tabs to access Playback and Configuration menus. A pop-up warning is given to remind you to set the correct time for the location.
Browser operation performed well with Internet Explorer, Edge, Chrome and Firefox, but some PC configurations will likely require an ActiveX plug-in. Clips from the internal storage can be exported as .mp4 files.
As an alternative to the browser setup, Bosch Configuration Manager software can be downloaded from their website.
An analogue test monitor output is included but requires an 'optional' SMB to BNC connection lead that is not provided.
A Menu button on the dome's chassis front, cycles through some limited functions such as Auto-Focus, Image invert and Default with 9 apparent functions some of which require a push of less than 2 seconds and others greater. Apart from a simple diagram in the Quick Install Guide there is no mention of this feature in the available manuals beyond the ability to disable the button. It does appear that you need to attend a training session to have explained the features that haven't been well documented.
Power can be supplied from both PoE and 12 or 24v input to provide a level of additional protection in case of network or PoE disruption. The local power input will take over and keep any local recording maintained until a PoE supply is restored.
Performance
The camera has good image quality and low light sensitivity. The sensitivity is stated as 0.12 Lux colour and 0.02 Lux monochrome with a 0 Lux figure when using the built-in IR LEDs. Dynamic range is given as 85dB. The clear dome has very good clarity and an IK10 impact rating.
A range of "Essential Video Analytics" are included providing rule based alarms and tracking, line crossing, enter/leave field, follow route, loitering, idle/removed object, people counting, crowd density estimation and 3D tracking. To fully appreciate these analytic functions and to optimise their settings it is wise to download the VCA Operation Manual from the Bosch website.
Read the full review in the March 2018 edition of PSI magazine