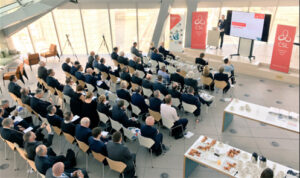 PSI was among the many guests at the tenth annual CSL Insurers' Forum held this week in London. Chaired by Simon Banks, Founder & Group Managing Director at CSL, the event addressed a range of critical issues to the audience of insurers, installers and manufacturers.
Speakers and topics included:
Jason Girardier of Control4 who discussed home automation and how it can help compliance of insured clients
Stephen Ridley of Hiscox who talked about the awareness of cyber threats and insurance support
Simon Gordon from Facewatch who outlined the purpose of the Facewatch system deployed in retail premises and what it means for Insurers
Chantel Smith of Inner Range Europe spoke about product updates specifically the Inception system, cyber threats and the ideology of cloud based alarms
Ray Kay from Vodafone discussed the latest on the CSL and Vodafone partnership and the importance of wireless technology
During the event there was also a video from Stephen Adams of BAFE outlining developments in the fire industry and how fire monitoring compares to security monitoring.
Finally, Simon Banks wrapped up the Forum with a look at the value of partnerships within the industry, investing in innovation and bridging the skills gap.
Following the presentations there was a Q&A session which included comments from the FIA and Police services talking about alarms, responses and statistics and also a champagne draw prior to an afternoon of networking.