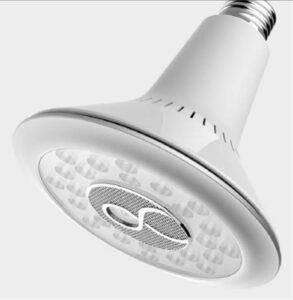 Based in Shanghai with operations in Europe and North America, Sengled integrates consumer electronics with LED lighting, creating products (says the company) that reduce clutter and expand smart home capabilities to every room. Products already available include a bulb with a WiFi repeater on board and a bulb featuring wireless audio functions. The company has now launched a product aimed at the home security market which may start a technology trend in the surveillance sector.
Announced at the CES event this week is the Sengled Snap, a 25,000 hour PAR38 indoor/outdoor LED lamp that has an integrated 720p camera, microphone and a speaker. The idea is that it can be used as an alternative to a PIR unit and also offers cloud recording. Software allows facial recognition, motion detection, geo-fencing and activity detection and can send an alert in the event of a trigger.
"We believe the lightbulb can be continuously reinvented to make life better for modern consumers," said Johnson Shen, CEO of Sengled. "The products we're showcasing at 2014 CES demonstrate how consumer electronics can be integrated with lightbulbs to provide better entertainment options, improve security, increase connectivity and extend home networking capabilities in fresh new ways."
Although yet to be released or priced Snap is expected to be available in the summer of this year at the latest.
The bulb was one of a number of user-installed security systems launched at the event, so nothing likely to challenge the professional CCTV market, but an interesting indication of the direction of home automation/security integration.