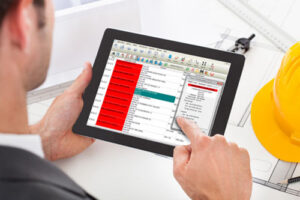 Drax Technology has announced the release of SMaRT Web, a cloud and subscription-based system which enables users to access fire alarm management remotely. Sold through an annual renewable licence, SMaRT Web can be used by service and maintenance organisations, facilities and estates managers and end user organisations to prove which devices have been checked during weekly testing and quarterly maintenance visits.
"Any business that has a fire alarm system installed needs to have complete confidence that their system is being tested and maintained properly," says Keith Minster, product manager. "SMaRT Web can give them that confidence. Service and maintenance companies use different methods to produce evidence of what has been tested. Engineer's hand written service sheets, print-outs from control panels, marked-up drawings, and coloured or bar-code stickers affixed to each device. None of these methods are fool proof. SMaRT Web records exactly when a device has been tested, detailing the time, date and location. This level of detailed consistency means that SMaRT Web becomes a compliance tool for both service and maintenance companies as well as end users."
SMaRT Web enables service managers to use the tool to drive operational efficiencies by reviewing service and maintenance status on demand while also delivering customer engagement. It further drives close customer interaction by enabling users to view the status of the system and measure engineer performance, at any given time, while proactively alerting them to any issues with the system itself.
The system uses plug and play hardware as users connect it to the fire alarm control panel to be monitored, enabling the interface to communicate via GPRS with the server and they can then monitor every sensing device connected to the panel 24×7. SMaRT Web interfaces are compatible with most fire alarm control panels.
Different notifications can be sent by email and/or SMS messaging. Each event notification details the event type and its location. Additionally, reports based on weekly testing, service visits and live activity can be generated.