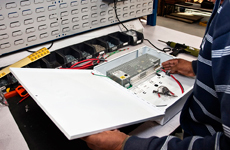 Elmdene International believes that greater attention needs to be paid to the quality and performance of power supply units for security and fire systems. With this in mind, the company is spotlighting five key things that purchasers should be looking out for to ensure that the solutions they adopt are actually fit-for-purpose.
"While attention is lavished on the specification of more visible elements of a solution, like CCTV cameras, DVRs, intruder and alarm systems, this is still a far cry from that given to mission-critical PSUs (Power Supply Units)," reckons Ian Moore, Elmdene's Managing Director: "In fact PSUs are often left out in the cold as the poor relations, thrown into the mix at the very end of the installation process. In my view, this makes little sense given that security systems are only as good as their weakest link."
Combating brownouts
Leading the way in the top tips, as part of a push back against substandard PSUs, is to check that a solution chosen is tolerant of mains input voltage fluctuations which, if left unchecked, can result in problematic 'brownouts'. According to Ian you really want power supply units that can handle variable inputs and still maintain a standard output, with its own solutions able to work comfortably anywhere between 90V and 260V.
Optimising efficiency
The efficiency of PSUs is becoming an increasingly pivotal consideration, in fact many of today's businesses have set themselves power reduction targets. To achieve better operational efficiencies, Ian believes that switch mode technology is in a different league from more traditional linear PSUs. Switch mode units offer a significantly higher level of efficiency, typically 80-87%, and, correspondingly, lower energy bills and a reduced carbon footprint.
Smaller footprint
Where you are seeking to put a PSU unit into a confined space then, naturally, you should be focusing on the type of PSU that is more compact. Switch mode models also score highly here as the latest are, typically, significantly smaller and a tenth of the weight of older linear style – copper-based – units.
A healthy temperature
Another factor, on the PSU front, which is worth pressing suppliers on is what temperature the unit is going to operate at. It should be remembered that switch mode power supplies run significantly cooler than established designs. This is underlined by the reality that older linear units are hot to the touch and are, consequently, more susceptible to failure. Ian Moore estimates you can lose half of the power that goes into a linear PSU simply due to the heat which is being radiated.
Standard of support
It is also vital to confirm that any PSU selected is compliant to recognised local codes. They should, for example, carry the CE mark and conform to standards such as EN60950-1, EN50131-6 and EN6100-6-3, as and when appropriate. In addition, it makes sense to ask about the level of technical support provided by your vendor and the quality of their own internal processes. Are they accredited to BS EN9001:2008 for their quality management systems or ISO 14001:2004 for environmental management?
No power – no system
Ian Moore is keen to get the message across to prospective purchasers of PSUs that it makes sense to take time out to check on the suitability of a specific power supply unit: "Simply throwing something in, crossing your fingers, and hoping it will work is foolhardy. The right solution can make a concrete difference to the operational efficiency and reliability of security solutions, whereas, by the same token, the wrong choice can lead to the prospect of unexpected downtime, with no power for CCTV cameras or recording devices, and serious gaps in capability."