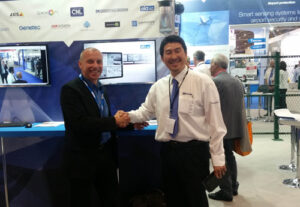 Optex and ela-soft have put the finishing touches to a partnership agreement that will see Optex's intrusion detection sensors integrated with ela-soft's GEMOS platform. The first joint projects between the two companies are already being specified in Europe.
Installed at a number of sites in Germany, the ela-soft GEMOS is able to receive alerts from more than 500,000 data points in one installation and integrates the disparate systems such as access control, fire alarm, CCTV, PA (Public Alert), intrusion detection, communication, BMS systems and perimeter protection into one platform.
Optex sensors will provide the perimeter protection element as well as intrusion and object detection of the system. Optex's laser scanner, which analyses speed, size and distance of an object within a 30m radius has already been fully integrated into ela-soft's GEMOS PSIM platform and the remainder of the IP thermal and active infrared sensors will be integrated imminently.
Ricky Miwa, Managing Director of Optex Europe says that PSIM systems are usually deployed in critical infrastructure where perimeter, people and asset protection are vital. The partnership with ela-soft will help to provide customers with improved situational awareness of their sites, specifically giving additional visibility of people and object movement.