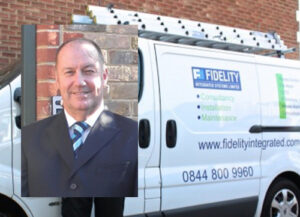 Kenneth Kay is the Managing Director at Fidelity Integrated Systems of Orpington, Kent. Areas of expertise for the company, which won the Security & Fire Excellence Small to Medium Installer of The Year 2015 Award, include bespoke fully integrated security and fire systems including intruder alarms, access control, CCTV, gate automation and fire alarms.
Do you use a distributor or buy direct from manufacturers?
We have Gold member relationships with market leading manufacturers which avails Fidelity excellent technical support, a key element for both designing and supporting complex systems. However we buy primarily through one key distributor, enabling us to pass on the benefits of favourable trading terms and a long term relationship to our customers in the form of savings.
Is third party accreditation beneficial to your company?
We are very proud to have achieved the highest accreditations in our field with accreditation bodies for security and fire systems, including the National Security Inspectorate, BAFE and FIA. These enable us to provide insurance accepted certification and are a requirement for a lot of the work we tender for, especially schools and universities.
Achieving accreditation is a significant investment of our time and money, but it confirms to clients that our team consistently strive to achieve the highest standards and practices and demonstrates our long-term commitment to the industry.
What would be a typical project for you?
As an integrated systems company Fidelity cover a spectrum of bespoke projects from small entry-phone system installations in a residential blocks to fully integrated systems installed in commercial environments. Our clients include some of the City's leading landmarks, schools, listed buildings, luxury residential developments and shopping centres.
We are a technical rather than product led company, enabling us to listen to our clients security, budget and timescale requirements and provide a bespoke open platform based solution. We are passionate about open platform solutions as they allow our clients the flexibility to develop their system in the future.
Are there any common requests from customers that give you problems?
Usually deadlines! When projects that have been in the planning stages for 6-8 weeks are finally ordered they often have unrealistic timescales to complete. We will always endeavour to meet those deadlines but sometimes it's impossible as bespoke equipment needs to be manufactured.
Our surveyors always indicate from the earliest opportunity of any potential long-term manufacturing items in order to provide a realistic deadline. On critical installations we have in the past provided temporary solutions until the correct equipment is delivered so that security is not compromised.
Do you think there is a skills shortage in the industry? Any trouble recruiting?
As a growing company I believe this is the single biggest problem facing our industry. It is incredibly hard to find skilled engineers. We are strong supporters of apprenticeship schemes and currently have three apprentices training with us. All of the apprentices that started with us are now fully trained engineers at Fidelity – having risen to management in many cases. We were very proud that one of our very junior engineers was runner up in the IFSEC Engineer of Tomorrow Competition 2015, with one judge remarking "he has so much knowledge and confidence for an engineer of such a young age".
We actively encourage security and fire companies to utilise apprenticeship schemes to ensure a strong talent pool in the industry moving forwards.
Read the full interview in the February 2016 edition of PSI magazine