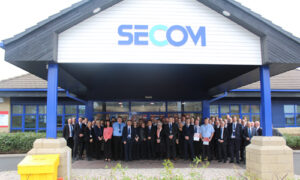 SECOM Midlands has moved into a new building, as its existing offices were not the right size to meet its needs. The firm's Midlands office previously occupied a building from the 1960s on the outskirts of Birmingham, which had been its headquarters since 2000. However, in 2000 SECOM's client base was smaller and it didn't need to employ nearly as many people.
The need for a larger storage facility meant SECOM had to move especially as it needed the capacity to hold bonded stock for key clients.
The new location is a former NHS dialysis unit built in 1994. The building was abandoned two years ago due to the construction of a new Queen Elizabeth Hospital, which rendered it obsolete.
The new offices cover an area of 7,500 square feet, and the storage area is four times the size of the company's old premises. Its intention is to use this centre for staff members from all around the UK, and as such SECOM has constructed a lounge and meeting area in the new facility.
The firm has also developed a new training centre, which is some way towards realising its goal of a National Apprentice Centre for SECOM UK. The company is a founder stakeholder of the Government Trailblazer Apprentice scheme, and has plans for a second training room for future apprentices.
Paul Weaver, SECOM's general manager for UK operations, said: "This new facility and new location has been beneficial to all of our staff. The site is in a secure prime location on Aston Cross Business Village with local waterways, wildlife and shops on site. The morale of our staff has improved significantly as they all had an input into its design throughout the process. They now have a new modern, open-plan designed building which I am sure all of my staff are very proud to work in."