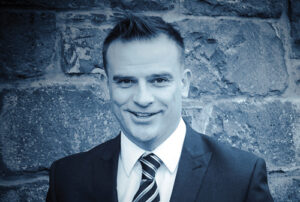 Alan Wheelans is the Operations Director at Border Safeguard in Selkirk. He has over 20 years' experience in the industry and quotes electronic security, CCTV, door access, fire detection, integrated IP security solutions, security lighting and nurse call as areas of expertise for the company. Accreditations include NSI NACOSS Gold, BSIA, Alcumus SafeContractor Approved, Acclaim SSIP Accreditation, FSB Certificate Member, Constructionline Member, Plexus Group Member, Investors in Young People Accreditation, ISO:9001:2008 and Scottish Borders Chamber of Commerce Member.
Do you use a distributor or buy direct from manufacturers?
We do both, however the majority of our product is purchased from a distributor. The benefits of this being that they provide a next day delivery service and also gives us the options to collect product from their depots should the engineers be close by. As a member of a UK-wide purchasing group it allows us to work closely with many manufacturers and distributers to allows us to obtain parts at the best possible cost, making savings which we can in turn use to reinvest into our business and most importantly pass on to our customers.
Is third party accreditation beneficial to your company?
Absolutely essential. We pride ourselves as being one of the very first companies to gain the ISO:9001 accreditation through NACOSS in the early 90's. It demonstrates to our customers (both commercial and domestic) that we are continuing to be at the forefront of meeting industry requirements. Our internal and external audit process allows us to continually monitor our business and ensure we are developing and changing to continue to meet our customers' needs and expectations thus giving confidence in our abilities.
Also in a time when health and safety regulations are at the forefront of every contractors mind knowing that we are recognised and supported by accredited bodies such as Acclaim, Alcumus SafeContractor and Constructionline not only gives us credibility but also increases client confidence. We are incredibly proud to be part of such highly held bodies and strive to continually provide the best service possible.
What would be a typical project for you?
I don't really like to put labels on a typical project. The installation work we undertake varies so much whether it be from a small residential intruder alarm system to a large complex analogue addressable system which may consist of serval interlinked properties over a large site. As a company we enjoy the challenges brought by the various system installs we are asked to look at undertaking whether it be in the commercial market place or by the residential home owner. That said we recently undertook a large scale update of the analogue addressable system at Musselburgh Race Course which involved over 300 fire devices installed and commissioned over a single site consisting of several networked systems.
Are there any common requests from customers that give you problems?
Being from a very small part of the world where everyone knows everyone's business has its pros and cons for us.  We are very fortunate to have a strong existing customer base who are satisfied with our service and happily pass on our details to friends, neighbours and relatives which keeps business going strong however with that comes the obligation we have to be able to continually offer our customers quality products at an affordable price. We refuse to trade quality over price but as often as possible look to find a balance between each so to ensure our customers get value for their money. The other is that you provide a quote one day and they duly accept several weeks after then expect you to turn up the day after! It's rather frustrating on occasion but we do our best!
Read the full interview in the October 2016 edition of PSI magazine