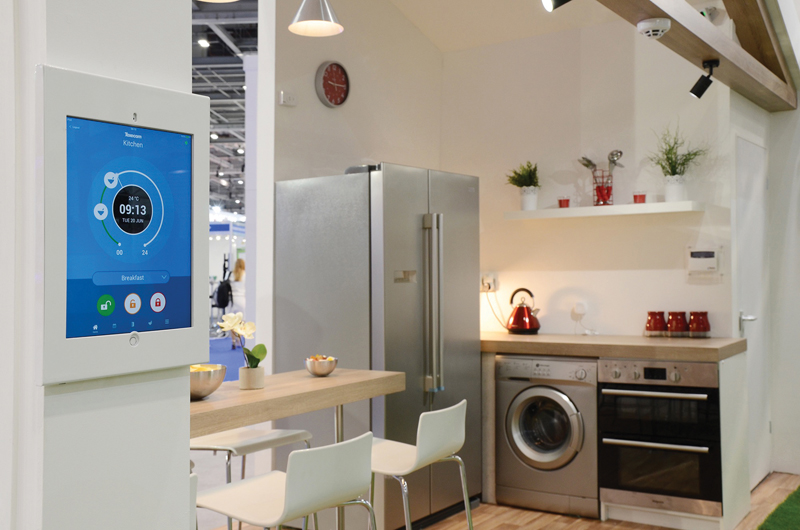 If the pandemic has taught us anything, it's the importance of the home, and how integral it is now to meeting both professional and personal requirements of comfort, safety, security and productivity
Given the nation's experiences during lockdown months, it's no surprise that Jamie Allam, CEO Amthal Fire & Security, says that homeowners are looking at ways to secure their home, even as restrictions are being lifted.  He suggests security specialists have a chance to embrace the new interest in smart security and encourage homeowners to think about it in a much more holistic way.
As many people continue to spend more time at home, buildings have morphed into becoming the centre of our world, providing a place where we live, work and fulfil our entertainment needs. We have reportedly invested in our homes, up to £4,000 since the start of lockdown, including tech, gym equipment and office kits.
Smart home security
A smart home, integrated with technologies can provide a complete sense of safety and security. Once upon a time, such smart home solutions were seen as a luxury. In today's smartphone obsessed world, requirements are evolving from hi-speed internet and advanced laptops to an individually connected, networked and visually secure building, offering the best of a professional and personal living space.
Cognizant of the homeowner's new requirements, architects, planners and specifiers see the need to turn to more smart home solutions in development designs and planning stages. And security specialists need to be on hand during this early specification process to ensure systems can be integrated and seamlessly blend with their surroundings.
Technologies include the Internet of Things (IoT) playing a major role in advancing homes, providing spaces that respond intuitively to requirements and automatically adjust to individual demands.  And this is all starting right from the perimeter of a home and entrance systems, through to smart automation of internal devices.
Taking it to the next level, is acknowledging how the world is changing and anticipating convenient solutions, where connectivity and interactivity are driving the way families live, communicate and manage their homes, essentially through today's mobile-connected lifestyles.
Truly secure smart homes
New high security technology is undoubtedly putting control in the hands of the homeowners to automate and create the lives they want.
Advances from intruder systems include a presence simulation solution that can work as a deterrent against burglars and notifies the owner remotely about any noise and movement detected indoors, or if a window or a door has been left ajar.
Some security cameras today are not just for keeping criminals away. With external lighting integrated into the design, they are operational with movement sensors built-in as standard.
CCTV is now useful for keeping an eye on pets when homeowners are out of the house, or working with door entry to look out for deliveries and packages to be left safely.  Options include high quality video, internal and external, night vision and smart integration with various connected voice-activated devices such as Google Home and Amazon Alexa, together with mobile apps.
Within a home, window blinds can be adjusted according to the weather outside, they go down as the sun sets and the lights switch to aid better navigation. A smart light control system can monitor the lights in individual rooms across the entire house. Heating and cooling systems can follow a similar, integrated design, all with maximum energy saving benefits.
But in the smart security evolution, it is also about simplifying the installation process to enable the opportunity to design and offer smart technology, then integrate and configure it to offer homeowner's ultimate peace of mind.
Here, the Internet of Things (IoT) and Building Automation are playing a huge role in creating well-engineered and automated buildings and homes that offer comfort, relaxation, security and productivity.
Mobile first security
Working with Amthal's partner Texecom to bring homeowners protection when it comes to intruder alarms, also introduces the advantage of mobile first security with Texecom's Connect app.
The Texecom Connect app is updated from both a homeowner and installer perspective.  This includes most recent updates to Texecom Connect v2 with professional installer management, allowing authorised users to manage the service and personalised support for homeowners.
Michael Downie, Regional Sales Manager of Texecom says: "The Texecom Connect App provides an environment where homeowners actively want to interact with their home, enjoy the new possibilities that are open to them and receive the peace of mind security that comes with knowledge and control, alongside professional installer support when required.
"But smart homes are always learning and our priority is to ensure our Texecom Connect App, supports our evolving product suite and continues to make homeowner's lives easier, not more complex.  We upgraded to Texecom Connect V2 for professional specialists, such as Amthal, to offer homeowners increased possibilities with mobile first, smart security technology."
In summary, people are proactively embracing their homes on a whole new level. As a result, the lockdown period has excelled desires for smarter homes, where systems can be installed and scaled, and operated for health, comfort, productivity and convenience to suit our new adapted lifestyles.
In a post-pandemic world, we have an opportunity as an industry to embrace how homeowner needs have changed.  And we can provide devices that help them save money, encourage more energy efficient practices and operate at homeowner's convenience, as well as continuing to secure their property and protect what's precious.
With these technologies constantly evolving from an installation, user experience and management perspective, the possibilities are endless for smart homes of the future.  This is especially those that embrace the mobile first experience to make life safer, more secure and ultimately easier to control.