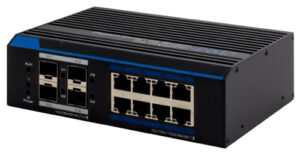 Eneo has added four new, high-PoE budget, switches to its Gigabit switch portfolio. Two new desk-top switch models offer four and eight port, unmanaged, Gigabit camera channels (IAD-5SG1004/8MUA); with PoE budgets of 60W or 120W respectively and internal switching fabric capacities of 12Gbps or 20Gbps. The four-port model has two, Gigabit copper uplink connections and the eight-port model has both Gigabit copper and Gigabit fibre, SFP uplink connections. In addition to this, Eneo has introduced an eight-port, rack-mount, Gigabit switch (IAR-7SG1008MMA). Its PoE budget is 135W and its internal switching fabric is 24Gbps. As a Level 2, managed switch, it offers VLAN, port-mirroring and multicast support and it comes with two Gigabit copper and two Gigabit fibre, SFP uplink connections. Rack-mount, 16-port and 24-port models will follow.
The final addition to the range is an eight port, industrial-rated, Gigabit switch for tough environments and mission critical applications (IAM-5SG1008MMA). Fast-linking redundancy ensures network paths are reconfigured and re-routed within 50ms, should a network fail or break for any reason, ensuring CCTV systems stay operational. Its operating temperature range is -40°C to +75°C, making it ideal for extreme environments. This tough, eight port, desk-mount switch has a 240W PoE budget, 24Gbps internal switching fabric and four, fibre, SFP uplink connections. It is also Level 2 managed, supporting VLAN, port-mirroring and multicast functionality.
The new switch range joins eneo's existing, 24 port, 390W, rack-mount, managed switch; 8 and 16 port unmanaged switches; and its four and eight-port, industrial, desk-mount, managed switches.