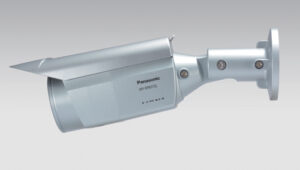 Panasonic is set to launch two new security cameras, aimed at small to medium sized businesses. The WV-SPW532L and WV-SPW312L bullet cameras, set for release in early November 2015, are reported to have features from the company's 3 and 5 series cameras at "a fraction of the cost".
The Variable Image Quality in Specified area (VIQS) option allows the cameras to select areas within an image to stream at a higher quality, while streaming the rest at a reduced quality. H.264 compression is another feature as is Panasonic smart coding technology which reduces bandwidth by as much as 70 per cent. Both versions can be integrated with the WJ-NV200 Network Disk Recorder.
The SPW532L produces 1,080p full HD images at up to 30 fps and the SPW312L produces 720p HD images, also at up to 30 fps. The cameras have built-in IR-LEDs for low light conditions.
The IP66 rated bullet cameras are both water and dust resistant and ready for outdoor mounting. The cameras can be mounted directly onto a wall, without the need for a base bracket.