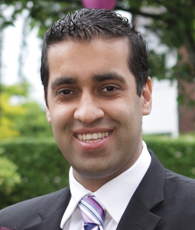 A training school to help other businesses combat criminal activity by using CCTV has been launched and the founder has ambitious plans to turnover £250,000 and create five jobs within the next six months.
Umar Haq, who has over 15 years' experience working with CCTV, has set up Learn CCTV in response to demand from engineers, electricians, builders and those already in the industry to be trained in how CCTV works and how to correctly install it.
Umar estimates that up to 30 per cent of UK systems are incorrectly configured or not operating to their true potential for evidential purposes or to maximise security stating that one of the main issues he sees concerns the citing of DVRs: "Too often, they are not in locked cabinets," he says. "Instead they are merely sat on a desk where anyone could easily just pull the power cable out to stop recording. The installers would miss out a key element which is the lock box.
"Secondly, I always see the recording resolution and fps setup incorrectly. Sometimes engineers just take it out of the box and begin recording and feel that the default setup is suitable, when in fact each installation is completely different."
Umar continues: "Another error I frequently see is installers trying to cut costs by using cheaper cable. Instead of using solid copper RG59, they would save themselves a few pounds by using a cheaper copper coated steel RG59 cable. The list is endless of the number of sites I have been to where I could turn around and say to the client "the person who installed this hadn't been trained properly". It is these simple mistakes and errors that we want to teach engineers so they don't have to spend longer than needed on an installation."
In his experience, Umar believes that often the problem isn't with the installation of the cameras themselves – it is more of a problem with the CCTV system as a whole as generally, cameras are straightforward to install and focus. It's when it comes to the setup of the DVR that issues arise.
"Many installers do not know which Fps should be set and which resolution," he says. "They aren't sure about the right situations in which to use motion detection. Many also don't know how many days of recording are required and whether that element is being set correctly. It's when it comes to PTZ dome cameras that we tend to see the issue with sporadic control and engineers can't understand what is causing it because they haven't had the right training from a training provider like us."
Learn CCTV offers basic through to advanced training to help those who already work in the CCTV industry to enhance their knowledge in order to increase the protection security cameras offer. The business also works with those who want to develop a new skill set so they can offer an extra service to their customers.
"I know there are many providers out there, but too many use uninspiring Power Point presentations and fail to effectively communicate with the students," explains Umar. "I even know one training school that teaches students how to use an oscilloscope. I can't remember the last time I saw an engineer have a scope on their van, let alone the need to use it! We go to great lengths to make our lessons simple and engaging, and we also travel the country to bring the training directly to students – saving them the time and expense of travel. This helps set us apart from our competitors."
Read the full interview in the October edition of PSI magazine