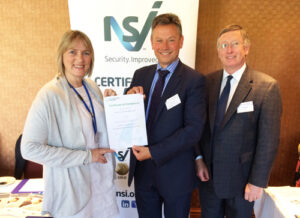 Tony Porter, Surveillance Camera Commissioner, has awarded Conwy Council a Certificate of Compliance to the Surveillance Camera Code of Practice.
To ensure that best practice of the Camera Code is followed, Conwy Council appointed NSI, as a designated independent third party certification body, working on behalf of the Surveillance Camera Commissioner, to verify the compliance of its CCTV systems with the Code.  NSI recently completed a review of their systems and recommended the Council for certification. The verification process is ongoing.
Emma Dowell, CCTV Manager at Conwy Council said: "The Council is delighted to have received this accreditation of its Public Space CCTV System. We use 114 CCTV cameras across the county covering 15 towns, and believe that inviting independent assessors to check the system will reassure the public that we are operating our cameras for the purpose intended, which is crime prevention and public safety.
"I would also like to take the opportunity to thank my team of operators, who are all highly trained and have assisted me in meeting the standards required."
Tony Porter, Surveillance Camera Commissioner, commented "I am delighted to award Conwy this certificate of compliance. This sets the standard for public space surveillance and demonstrates to the public that its system is run efficiently, effectively and transparently. I know NSI have worked closely with Conwy and my Office to ensure this new process runs smoothly. My thanks to all involved and congratulations once again to Conwy."
Tony Weeks, NSI's Head of Technical Services added "Conwy Council should be applauded for choosing to open up their public space CCTV Surveillance operations to independent scrutiny, and in the best interests of the general public. We were delighted to take Conwy Council through the process and we're pleased that other local authorities are following in their footsteps."
Pictured: Emma Dowell, CCTV Manager, Conwy Borough Council is presented with the Certificate of Compliance from Tony Porter, Surveillance Camera Commissioner, with Tony Weeks, NSI's Head of Technical Services