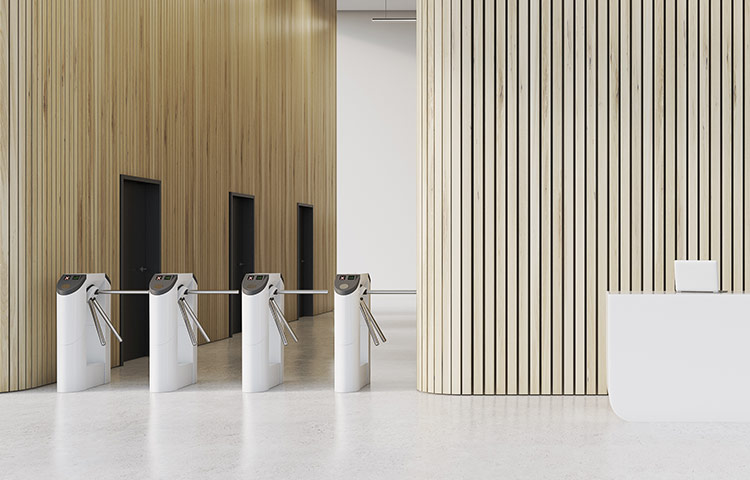 For decades, electronic access control (EAC) systems were tied to an on premise computer that was dedicated to running management software. Sometimes this computer was in an accessible location, other times it was tucked away in a server room. Today, software is still a viable option for managing your sites, but there are more access control hosting options. Now you can secure doors, manage employee access and meet compliance requirements with easy reporting, and you can do it anywhere with an internet connection.
How do you know which host method is right for your needs? Consider the following benefits when deciding what access control system is right for you:
Cloud-Based Access Control
Cloud infrastructure enables a complete, smart security solution from anywhere. From an IT perspective, cloud solutions are fast and easy to get up and running – and to maintain – because they eliminate the need to deploy dedicated hardware and software. They also provide built in redundancy, which can help to prevent data loss.
From the user's perspective, internet connectivity offers an added layer of convenience with the ability to remotely manage a site or sites from anywhere with an internet connection. Cloud hosting also provides support for mobile apps, which allow users to receive push notifications in the event of a security incident, remotely unlock doors and add or delete users from their phone. EAC systems can also be integrated with video surveillance and intrusion detection through the cloud for a multi-layered, end-to-end security solution.
Embedded Interface Access Control
Embedded web-interfaces provide basic web-based access control without the complexity and cost of software hosted solutions. Like cloud-based access control systems they are networked, but web access is hosted on the panel itself, rather than on a networked server. They provide some of the same benefits of cloud-based systems, such as shorter installation times, lower up-front costs and remote management capabilities.
However, there are also some limitations to embedded web interfaces. For example, embedded products often offer very basic functionality and cannot be tightly integrated with video surveillance or intrusion detection. By definition, embedded interfaces are also dependent on the hardware resources on the actual device, so they have limited scalability. As the system grows, this resource limitation often becomes a bottleneck.
Software Hosted Access Control
As mentioned above, software hosted EAC is the most traditional method of deployment, but traditional doesn't mean outdated. There are still advantages to using on premise software.
For example, despite more significant upfront fees, you own the software, and you won't pay recurring monthly fees as with cloud-hosted solutions. In addition, on premise software EAC systems are generally more capable, customizable and offer greater control of data for companies that have special needs with regard to data handling. And like cloud-based systems, hosted access control can be integrated with video surveillance and intrusion detection for an end-to-end security solution.
The Answer
There are benefits to each deployment method, but what if you want the benefits of multiple access control hosting methods? The good news is you don't have to choose.
With your options in mind, NetAXS-123 offers unparalleled flexibility with its 3-N-1 capability
 enabling the panel to be managed through its enhanced embedded interface, in the cloud via MAXPRO Cloud or via on premise software with WIN-PAK's integrated security suite.
Optimized for Google Chrome, NetAXS-123 version 6.0 offers increased efficiency with a faster, user-friendly design that makes it simple to install and easy to operate and maintain. As your security needs grow, NetAXS-123 grows with you enabling door expansion with a 1 or 2 door add-on board to the base controller and through its multi-panel loop capability by connecting additional NetAXS panels via RS-485 or Ethernet Virtual Loops (EVL). Version 6.0 includes single-interface management for securing doors and managing employee access and sites remotely. Additional features include consolidated alarm and event management for multi-panel loops, as well as system-wide back-up and restore.
The newest release of NetAXS-123 is available for download at MyWebTech and coming soon to ADI branches. If you have any questions, please visit the NetAXS website or contact Inside Sales at 800-323-4576 option 3.