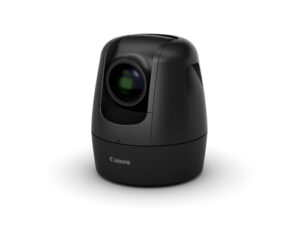 Canon Europe has announced that its parent company is developing a network camera which allegedly makes possible the viewing of subjects that the naked eye would have trouble discerning.
Drawing on a range of optical technologies, the network camera being developed will feature a large-aperture ultra-telephoto zoom lens with a focal length of more than 600 mm (35 mm film equivalent) that achieves an F-value of 2.4 to allow large amounts of light to enter. The lens will incorporate aspherical and UD (Ultra Low Dispersion) lens elements that suppress the incidence of chromatic aberrations, which become more prevalent as a lens's aperture size increases, while making possible a compact lens unit. The combination of the large-aperture lens with a high-sensitivity sensor and high-performance image processor will reportedly enable the colour recognition of a subject's face at a distance of 100 metres even in dark environments with a mere 0.08 lux of illumination, roughly equivalent to the illuminance of moonlight. By comparison, says the company, conventional night-time surveillance to date has only been possible within a limited range with the aid of infrared illumination, or by using a night mode that only captures images in black and white.
Canon aims to commercialise the camera in 2016.