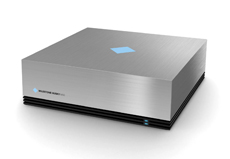 Milestone Systems has announced an easy way to make the transition from analogue to digital technology so, says the company, there is no need to throw out older cameras that are still working, as users add new network devices to a surveillance solution.
The Milestone Husky series of NVRs will now offer versions with integrated encoders that make it simple to connect analogue and digital cameras, which run on IP networks, to the same box. Milestone Husky Hybrid NVRs are preinstalled with Milestone VMS and let end users build on their initial investment. The end users can continue to use existing analogue cameras and add IP cameras over time.
The Milestone Husky Hybrid NVRs are aligned with the new Milestone encoder licensing meaning that only one hardware device license is needed for each analogue-to-IP encoder, regardless of the number of analogue cameras connected to the encoder. This applies to encoders with no more than one IP license. The Milestone Husky Series also supports the Milestone encoder licensing when external encoders are used on the NVRs. End users can choose from more than 200 encoders.
At launch two configurations of Milestone Husky Hybrid NVRs will be pre-installed with XProtect 2014:
• Milestone Husky M30 Hybrid with 16 analogue channels + 4 IP devices 4 TB storage / 8 GB RAM / i5 processor
• Milestone Husky M50 Hybrid with 32 analogue channels + 16 IP devices 16 TB storage / 16 GB RAM / i7 processor
General availability is Autumn 2014 in the U.S., Europe and the Middle East.
According to Lars Nordenlund, VP of Incubation & Ventures at Milestone Systems the new Milestone Husky Hybrid series is ideal for customers using analogue systems who want to move into the intelligent world of IP: "Customers can migrate to network solutions at their own speed while maintaining consistency."