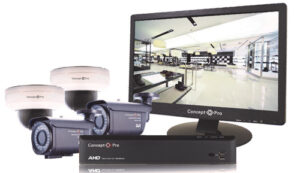 Videcon has launched the Concept Pro Analogue High Definition (AHD) CCTV platform, allowing installers to deliver analogue 1080p video over coax. The Concept Pro VXHAHD DVR, has been designed to replicate the functionality and usability of the latest generation of Concept Pro IP and analogue recorders, the VXH960 and VHDIP.
Users familiar to Concept Pro will find the VXHAHD recognisable, retaining the same GUI and key features. These include remote monitoring integration for stations running Immix Cloud or Sentinel software platforms, 'Till Scan' point of sale fraud detection technology, and compatibility with the license-free PC VMS application, iPims, allowing for viewing of 250+ different IP, AHD or analogue recorders from a single location.
AHD versions of the Concept Pro ARC and AIR camera ranges have also been released, designed to install exactly as their analogue counterparts. The VXHAHD is compatible with AHD, HD-TVI and traditional analogue cameras, making it ideal for legacy upgrades where cameras can be updated incrementally to high definition.
About the launch, Steve Newsome, Sales Director of Videcon said: "Professional installers who use Concept Pro, no matter if they are choosing AHD, IP or analogue CCTV, will enjoy the same setup, usability and support on all platforms."