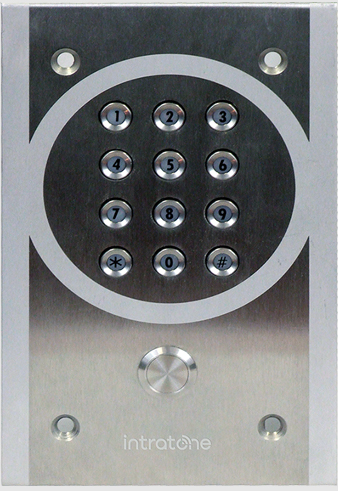 Melissa Lloyd Williams of Intratone predicts three trends for access control in accessible housing
Ensuring that homes are safe, accessible and comfortable has a significant impact on tenants' wellbeing. In today's digital-first world, the importance of accessibility in homes cannot be overstated – with tenants of varying needs and requirements requiring inclusive, intuitive solutions for everything from access control to rent payments and energy usage.
And with an ageing population, these needs will only become more significant. Did you know that by 2025 there is predicted to be more than 1.5 million households where the oldest person is 85 and over in England? That's an increase of 23% from 2015 and, as you can imagine, this makes considering accessibility in both new and existing homes more important than ever.
So, how can we plan ahead to ensure that these needs are met? Here, are my top three trends for accessible housing in the next five years – and there's not a robot in sight!
1. Smart(er) devices
Our home devices are getting even smarter and they're replacing the need to manually interact with a device – such as a light switch or traditional intercom. Take smart meters, for example, that allow users to easily monitor energy usage from their preferred device. Or smart taps, which use voice commands to allow tenants to turn the water on or off and measure water quantity or warm water, making kitchens much more accessible for everyone.
Smart technology can also transform access control systems – take our intercoms, for example, which are wireless and connect to an online remote management system. They allow housing professionals to manage buildings remotely, while tenants can easily grant access to visitors via an app.
2. Tech-driven wellbeing
We already know that housing is linked to wellbeing [link to September blog 1 when live] but we expect mental health to become more of a priority across multi-resident dwellings in the next five years. Take ForHousing, a leading UK Housing Association, which has introduced a new wellbeing service to their residents this year. Combining video, search terms and location data to create a single platform where residents can find support with all aspects of their wellbeing, the project is proof of technology's potential for promoting mental wellbeing.
Communicating regularly and openly with tenants also boosts tenant satisfaction and engagement. Our new Interactive Digital Noticeboard allows property managers to use an online remote management system to send out notices or set up polls for tenants – boosting mutually beneficial dialogues and fostering a real sense of community in buildings for a greater sense of wellbeing too.
3. Inclusion – in-person and digitally
We're already seeing more housing professionals embracing accessible features, particularly on door entry systems like intercoms. Audio induction loops, Braille keypads, yellow contrast rings around buttons and direct dialling will be the new norm for residences, as well as hands-free proximity readers for contactless door entry – making sure all tenants and their visitors can gain access to the building quickly and easily. But accessibility won't stop there. The housing sector looks set to raise its digital game even further too, by prioritising the user experience (UX) online to increase tenant engagement. Whether it's by ensuring that your website's content can be accessed by screenreader users, or optimising it for touch screen devices, now's your chance to get ahead!
Futureproofing in action
It's interesting to take a sneak peek at the future trends in accessibility, to gain a better picture of how this might affect the housing of tomorrow (or in five years' time!). It's no surprise then, that we're placing more emphasis than ever on the tenant – and how to create an all-round better experience for them. So, what are you waiting for?