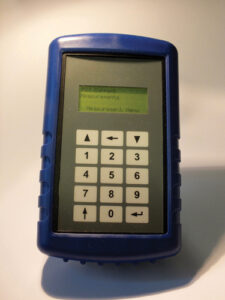 Dycon Power Solutions has released the D2330 Data Logger to complement its D243X series of EN54-2/4 power supply units. Typically, when installing a power supply, an engineer has to use a volt meter and simultaneously adjust various 'pots' to get the correct output voltages and current levels. Once this is done, all he can do on a routine service visit is remeasure the same again using his voltmeter.
The D2330 is an English-text menu-driven device which when plugged into the D24X-series can read all operational parameters of the unit and can set-up and modify any of the settings.
In control mode a D2330 can calibrate and set up all the operational parameters of a PSU, and, during subsequent service visits, restore the original settings with a single command.
In monitoring mode, a D2330 can measure and display, in English-text, :-
PSU power outputs and voltages
The status of each output
Battery impedance, voltage and charge rates
The ambient temperature reading and battery charge rate
Full system configuration
The Fault Log that shows problems that have occurred since the last reset.
All commands are menu driven using the keyboard; a screwdriver or volt meter is no longer required. The unit comes with a protective rubber 'boot' which can stand being thrown around in tool boxes and the back of an engineer's vehicle without affecting the unit's performance.
For the more advanced users who have a communication facility from an installed system to their service base, Dycon Power Solutions offers a service to help them remotely access and use the same monitoring and control functions.
For more information see 'Inside Story' in the February 2016 edition of PSI magazine