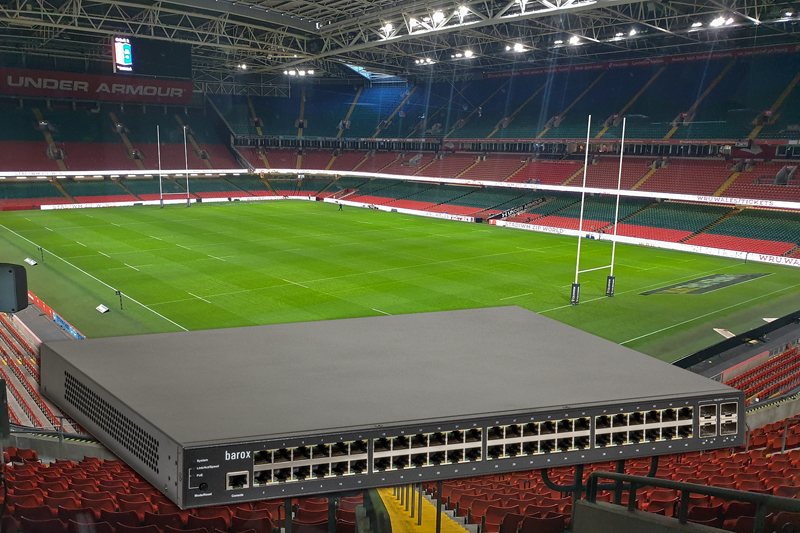 Managed Ethernet switches from barox Kommunikation have been installed to provide video surveillance, security systems and building management data transmission at the Principality Stadium, Cardiff, Wales.
Specified to integrate the stadium's 170 IP video cameras, access control, alarm and Building Management Systems into one single data network, 25 barox managed Ethernet PoE switches have been installed to deliver live video streams and data to the on-site control room.
At the start of the project, a tender process saw specialist provider Ceaton Security Services selected to upgrade the existing security system. This included the replacement of the stadium's analogue cameras with new IP units, as well as consolidating legacy IP cameras into one network.
Shane Gilgrass, Security Division Manager, Ceaton Security Services explains: "We installed over 100 additional IP cameras to expand the areas under surveillance coverage. Integrating the existing IP units into one combined system required a considered topology, to successfully integrate the stadium's building management system, alarm system and access control into the same network.
"Installing a dedicated 10 Gigabit fibre security network in the stadium and integrating all the building functionality into one network place meant the network switches needed to be reliable. Using barox video switches as opposed to non-security data switches meant that we could have complete confidence in the speed, bandwidth and security of the network – no matter what the demands placed on it."
Ceaton Security installed 25 barox RY-LGSP28-52/740 Managed Ethernet switches across six floors of the stadium, including the roof gantry. Designed to cater for the demanding requirements of HD video networks, the barox RY-LGSP28-52/740 models deployed are a POE+ layer-2/3 switch, with L3 functionality suitable for video over IP and video streaming in multicast.
Commenting on the new system, Darren Crossman, Facilities and Safety Manager at the Principality Stadium confirmed: "Since the commissioning of the barox based IP video surveillance system upgrade, the camera video received in the control room is not only of considerably increased quality over the old system, but is also reliable; something that is essential, and that we rely on to safely manage large scale events and crowd safety management."