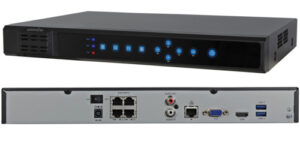 This is a four channel NVR which in this case was supplied with a 1TB Seagate Barracuda drive fitted. The unit has four PoE enabled camera ports allowing for very simple installation and system management.
Manufacturer's key features
4 channel 1080P input
Third-party IP cameras with ONVIF conformance
HDMI and VGA output up to 1080P
Accurate retrieval, instant playback
1 SATA HDD up to 6 TB
4 RJ45 POE+ Interface
Support for P2P, UPnP, NTP, DHCP, PPPoE
Support for mobile client access
Set-up
The generic "Quick Start" manual has 24 pages of which most are related to regulatory information and hardware including hard drive fitting. A QR code label had been attached to the front of the guide allowing quick access to a mobile device app for remote viewing. A 102-page manual is available for download from the Uniview website.
The rear of the unit has from left to right a 48v DC power input socket with on-off switch above, 4 RJ45 PoE ports for camera connection, phono (RCA) audio input and output sockets, RJ45 network port, 15 pin "D" type VGA output, HDMI output then a pair of USB sockets (USB2.0 below and USB3.0 above).
The USB mouse is used to navigate through the on-screen features and menus.
At start-up a Uniview message appears for approximately 30 seconds while the unit initialises and then presents a four-way screen display. Pressing the left mouse button displays a preview pane toolbar beneath the active quadrant.
Menu access at first login requires the "admin" password and this requests that the password be changed for a "strong" password of at least eight characters however there is no information on recovery if a customer should lose their password.
The unit only allows four incorrect attempts but it is not stated whether this invokes a time-out or a full lock-out.After a short period of use these toolbar and menu options provide a very simple means for operators to navigate through the NVR's features.
The recorder is capable of automatically detecting and connecting own-brand cameras connected through the PoE ports by way of a start-up wizard, alternatively a very simple to operate search function accessed through the main menu looks for any compatible or ONVIF compliant cameras in the same subnet of the connected network.
Once found any of these cameras can be selected and allocated to one of the four channels that this model supports.
Read the full review in the April 2016 edition of PSI magazine.