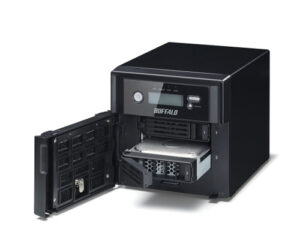 The device is promoted as an easy to install surveillance network recorder using the Buffalo Network Attached Storage box from a range produced for both home and business data storage. It is very well packaged with good transit protection as befits a hard drive based device. The 214-page user manual is available as a pdf from one of the Buffalo web sites that is clearly identified in the quick guide.
Start-up
The supplied model 3200D had two drive caddys accessible from behind the locked drive bay door. Each was fitted with a 1TB Toshiba 6Gb/s SATA drive.
Initial setting-up was very straightforward; pressing the front power on switch starts the power on sequence. The switch surround flashes green as the system boots and after a short delay the two-line LCD display begins identifying which stage the device has reached. After approximately two minutes, the green switch surround glows continuously and the LCD sequences through a sequence showing the status of the two LAN ports, their connection speed, IP address, Time & Date and Model number with firmware version.
The supplied disk only provides software titled NAS Navigator and some limited documentation. The NAS Navigator software gives access to the unit's settings and can be used to identify the IP address of the device on the network if it is unknown or has been left at its default DHCP setting. It also confirmed that the device drives were configured as RAID 1and allows flexible back-up and failover modes to be established.
Surveillance features
Once the unit was up and running as a network drive the next stage was to check its performance as a surveillance recorder. It is only at this stage that you find there is no software supplied on the disk and the manual directs you to download a suite of software from another Buffalo website.
This download gives you a number of programmes including Camera Policies, Data Service Policies, Live Viewer, Network Activity, Surveillance Video Manager, and Vault Admin.
Cameras are added using the Camera Policies programme. This manages the cameras to be recorded by the NAS and while there are a wide range of camera manufacturers and models listed, the process was not very clearly defined. The cameras can be added using a "Wizard" to discover known camera types or the details can be entered manually.
It is only on page 119 of the manual that it becomes clear that only one camera is permitted for the supplied recorder with additional licences being required for extra cameras to be added. You have to go online to the Buffalo website to gain a licence key for this "free" camera. There appeared to be no way to gain additional licences on line with a simple reference to obtaining these through your distributor although later a US site did appear to offer this service.
It is stated that as long as the camera can provide an RTSP stream then it should be compatible however, for this test the first three cameras individually tried, failed to record even where listed in their wizard but the fourth finally did after much diagnostic work and delays waiting for changes to be implemented and precautionary re-boots to occur.
A video provided through their website purports to show how easy it is to load cameras on to the system but the presenter uses a 5200 model that is already loaded with 16 licenced cameras and simply adds two more. No advice on alternative devices or diagnostics is provided. To be of real benefit the video should have shown a fresh out of the box NAS device connected to a clean PC with no prior drivers or software loaded.
The recorder in default mode records video in a series of folders as 5-minute clips of approximately 215MB for an HD camera with file names consisting of 32 hexadecimal characters and a ".DATA" extension, an associated 14KB file of the same name but with an ".HDR" extension provides storage location header data for each data file.
The live viewer programme can show any cameras connected by way of a selection tree for dragging into a display window that can be arranged from a single image through 2×2 up to 4×4 display.
Read the full review in the March 2016 edition of PSI magazine.