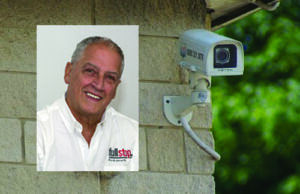 Dave Robertson is Managing Director at Fullstop Fire & Security Systems of Enfield, Exeter and Chatham. Dave believes that the company probably has the most experienced management team in the industry with himself, Neil Barber, Deryck Bottomley and Julian Crouch having a combined 200 years in the sector. Associate company, Fullstop in Exeter, is run by Dave's eldest son Doug and he has nearly 30 years in the industry.
Do you use a distributor or buy direct from manufacturers?
It's a bit of both, for the ease of servicing, parts and engineer training we try to stick to a specific range of products, particularly with regards to intruder alarms.  Our preferred range is that produced by Texecom for larger domestic and commercial properties and the Pyronix Enforcer wirefree range, for small to medium domestics, both of which are readily available from all of the major distributors.  Our preferred door entry range is the audio and video products from bpt.
Our preferred CCTV is the HikVision range, again through distributors, whereas access control is split between buying Axiom Lite and Axiom V direct from ARAS RBH and the Paxton kit from distributors.
Is third party accreditation beneficial to your company?
Around the time Fullstop was formed, NACOSS merged with the ISI to form the NSI and no sooner had we achieved NSI Icon accreditation then they renamed it NSI Systems Silver.  I think that I must be one of the few people who have been a Director of a Company when they have achieved NSCIA and NACOSS (Clarion), NSI ICON, NSI Systems Silver and NSI NACOSS Gold recognition.  This strongly suggests that I do believe it's beneficial and that it inspires confidence in potential customers when they see a range of bodies that the company are either accredited by or are members of. I know when I'm looking for someone to do something for me I am swayed by the number of trade associations or regulatory bodies' logos that are on show!
As well as the favourable perception such accreditations bring, there is the more tangible factor which is the requirement by insurers for NSI and BAFE companies and the ever growing number of health and safety requirements which have resulted in various inspection/approval bodies.
What would be a typical project for you?
We have several customers with a number of smaller systems, from one with 70 railway ticket offices through to several with a range of retail outlets, generally utilising our intruder and CCTV services.  We are also the favoured company of several major luxury house builders, electrical contractors, and Facilities management companies as well as The Devon and Cornwall Constabulary and the Devon Fire & Rescue services.
A typical installation large enough to be called a project in the past twelve months has varied from installing a new CCTV system in Exeter Airport to access control and CCTV in the NSPCC's new offices in the City of London.
Are there any common requests from customers that give you problems?
The same ones have been around for as long as I can remember (which owing to my advancing years isn't very long), either wanting it installed yesterday or wanting call out service within ten minutes, so that they do not have to wait for an engineer.  These issues are not totally unique to our business, particularly the question of when we can install something, but out of hours service is not so common.  My response is to quote the NSI parameters of four hours and if they're not happy with that, tell them that if they pay £100,000 + VAT per year we'll have an engineer waiting for their call!
Read the full interview in the March 2016 edition of PSI magazine