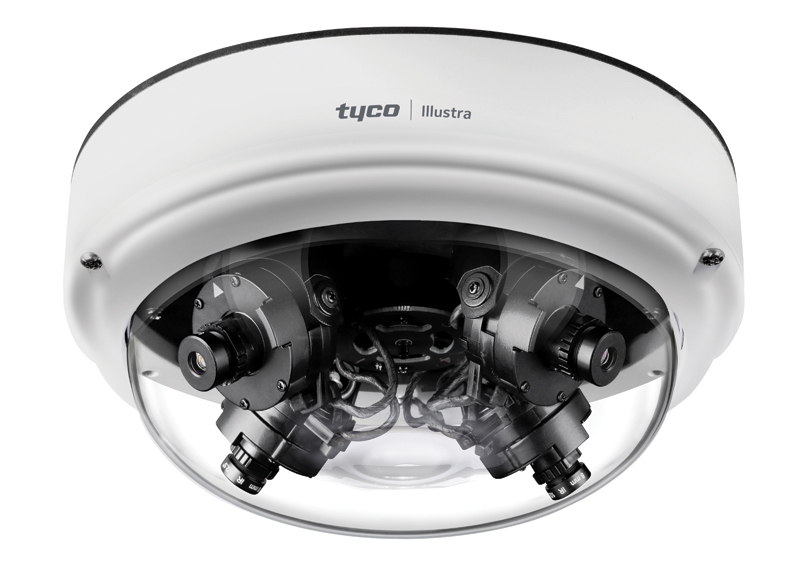 The Illustra Flex multi-sensor camera provides four 4MP camera views from a single location over a single network cable using just one IP address. The cameras can be flexibly positioned within the housing for full 360° coverage. It is suitable for internal or external locations and is rated to IP66 environmental and IK10 vandal resistant protection. Johnson Controls branding is additionally given on the box and quick guide.
Getting started
The unit has a good Quick Start Guide that shows the default IP address and initial password along with a link to the Illustra website. The dome must be fitted to an optional mounting bracket as the base does not allow for direct surface mounting. Brackets for Ceiling (pendant), Wall, In-Ceiling and Surface (junction box) are available with clear fitting guides. The dome has two large keyhole-slot bolts in the base to lock it into the mount; a centre security bracket is fitted for attaching a safety wire or lanyard.
Before use, the four sensor modules must be fitted into their holders in the base of the unit. Four captive security Torx screws hold the dome cover in place on the base and once removed and the internal packaging is taken out the sensor modules are fitted by simply aligning the arrow guide and clicking into place. It is not clear why these are not pre-fitted as there only appears to be a 2.5mm lens available so no alternatives would be used, but it is a relatively straightforward operation. A small fan in the centre between the four modules permanently runs and has numbers to identify the individual sensors. The clear dome, which is of a dimple design and therefore has a lower profile than a conventional dome, is tied to the base with a safety wire held with a single crosshead screw at each end, so can be easily removed if necessary. Each of the sensor modules is held in place by a magnetic base that holds it to a soft-coated metal plate in the unit's base. Four individual Micro SD card slots are provided, one adjacent to each module and these can accept up to 128GB cards.
Within the base is a small PCB with a socket for an analogue CVBS video output using the lead provided. The output appears to be 4:3 NTSC format 30 fps only, but most modern test monitors should be able to display this. An adjacent surface mount switch sequences through each module's image to allow individual scenes to be optimised, though the output does not show the full image area. A further switch on this PCB is available for restoring factory settings.
Connection is advised using IE10 (or greater) or Chrome browsers, others may work but must support the 32-bit VLC player. No mention is made of a discovery tool in the guide but "Illustra Connect" software can be downloaded from the Illustra website and this will discover Illustra cameras including any additional local subnet ONVIF devices. DHCP is set by default so various properties and a fixed IP address can be set using this software or via the browser setup option.
Power is supplied as either PoE+ or 12v DC and once connected the unit goes through a quick start-up routine and is then accessible. A small green LED on the external RJ45 connector flashes to show network activity. Maximum PoE power demand is just under 18W.
On first connection the default password must be changed with an indication given as to the strength of the chosen password.
Performance
The four sensor modules each have a pixel count of 2560 x 1440 (approximately 3.7MP) giving a 16:9 aspect ratio. Each has three streams available.
Read the full review in the December 2020 edition of PSI magazine