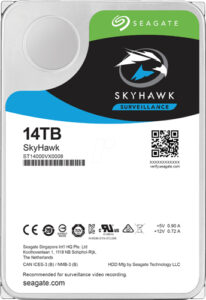 The 14TB ShyHawk is a conventionally packaged 3.5" hard drive with SATA connection. It is promoted as a surveillance optimised drive with "superior image integrity". Multi-Tier Caching allows for up to 64 HD video streams to be handled.
Hard drives for DVRs and NVRs have traditionally had a typical duty cycle of 90% data writes to 10% data reads, i.e. an almost one-way data flow. New AI (Artificial Intelligence) analytic systems however, mean that constant queries are being run on recorded data so there is a much harder workload that must be accounted for. The high volume of recorded images means that reliability becomes even more important when choosing storage media.
Hardware
The drive has standard SATA connections and these support latching connectors. Standard side and base fixings for #6-32 UNC screws are provided. Its size is the standard 147 x 102 mm length and width and the depth is 26.1 mm so the deepest of the 3.5" form factor. The manufacturer recommends keeping a minimum of just 0.76 mm clearance around the drive for cooling. The drive weighs 690 grams. Typical 12-volt start-up current is 1.8A so a reasonably heavy-duty power supply is required, particularly if RAID or mirroring is utilised. The manual states that you should validate the configuration with the selected RAID controller manufacturer to ensure that the full capacity can be supported.
It is designed for 24/7/365 operation and has a stated maximum rate of up to 550TB per year. Rates above this may have an impact on reliability.
Internally the drive consists of 8 disks spinning at 7200 rpm and with 16 heads. A novel approach to vibration has been taken particularly where drives are used together or fans generate specific vibrations. A piezoelectric micro-actuator allows the head to be fed with feedback signals to maintain inner track positioning during periods of shock or vibration. Rotational vibration sensors detect any physical disturbances and provide input to the servo control system that uses these to provide feedback signals to the main actuator arm and the piezo micro-actuator. This feed-forward system goes by the name of AcuTrac®.
A further enhancement called ImagePerfect™ supports a larger cache memory 256 MB that enables better caching and buffering for a larger number of video streams. This ensures that there can be more contiguous blocks of data written to the disk resulting in less movement of the read/write head and improved reliability.
Error correction and data recovery algorithms are built into the ImagePerfect system in order to prevent video frame loss and to stop frames freezing during playback.
Optimisation of background tasks aims to ensure that any host commands can be acted upon immediately with no impact on recording or playback performance. Whilst being able to handle 90% write times for a large number of video streams the drive can also deal with the real-time analytic demands of Artificial Intelligence managed systems.
For RAID based systems RapidRebuild™ is a feature that can be used to rebuild only the failed data and then copy the rest of the data to a spare drive.
Read the full product test in the January 2019 edition of PSI magazine