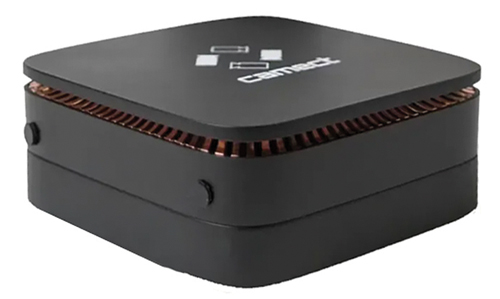 The Camect NVR is a Smart Network Video Recorder using AI routines to identify specific subjects within the scene and to prevent false alarms. This model is primarily aimed at mid to high-end residential and small commercial properties with higher-powered workstation and server systems becoming available soon.
Getting started
The device is housed in a small-format PC case of just 12.8cm square by 5.4cm deep overall. A removable 2cm deep base holds the 2.5" disk drive, which in the supplied model was a 1TB drive. This can be easily be changed with just two cross head screws holding the cover plate in place. Once fitted the system supports new drive formatting. The case has sockets for 12v power input, 2 x HDMI output, 2 x USB 2, 2 x USB 3, audio in/out jack, RJ45 network port and a micro SD card slot. A momentary On/Off button is used to start and close-down the software.
Two keyhole slots in the base allow wall-mounting of the unit. However the lugs that hold the two case sections together are not particularly large so are unlikely to withstand much pressure or a knock. A single mating connector links the two sections for drive control.
To operate, the only external connections necessary are the power input and the network port to an unrestricted internet link.
The on-line documentation recommends using Chrome and Safari as the supported browsers but good results were also returned using Microsoft Edge.
While a good level of operation is included with the initial purchase, a "low-cost" subscription model provides a more comprehensive remote alerting system. It is likely that this is still being developed.
Performance
While the Camect system initially uses a number of online services, all recordings are stored on the device and this ensures all video is held on site and can be reasonably secured, though alert recordings and associated GIFs may be transmitted using messaging or email services. Beneath each image is a timeline that indicates activity and can be used to select specific playback times. Plus and minus buttons expand and contract the timeline display from 1, 3, 10, 30 minutes, 1, 2, 3, 6, 12 hours and 1 day showing a full 24 hour span up to the live time. Above the timeline is a day selector to move back and forward in 24 hour periods.
Good flyover text is provided along with prompts for some functions. Hovering over a Green bell symbol at the top right of the image shows the number of alerts created and how many are new. When selected, indicators can be used to go back and forth between events. Additional transport buttons allow 5s forward and backword increments and when in freeze frame allow frame advance and recede. Cameras are shown in a matrix on screen and can be taken to full screen by double clicking. Individual camera can be moved around the display by dragging and dropping into their preferred locations.
Detection of activity begins very quickly with subjects being identified with on-screen notifications such as "Car" and "Bicycle, Person" in the case of a cyclist. Even in very low light conditions the system was capable of identifying people and vehicles in spite of low-light motion blur. With input from the user the system can be fine-tuned to improve performance or to be selective in alert generation. An at-home mode allows the alerts to be restricted when on the premises. An iOS or Android app (left) is available that can be configured to set and unset the at-home status when connected to the home or business Wi-Fi. The apps are currently only available via the Camect website not the usual app download sources.
Read the full review in the November 2020 edition of PSI magazine