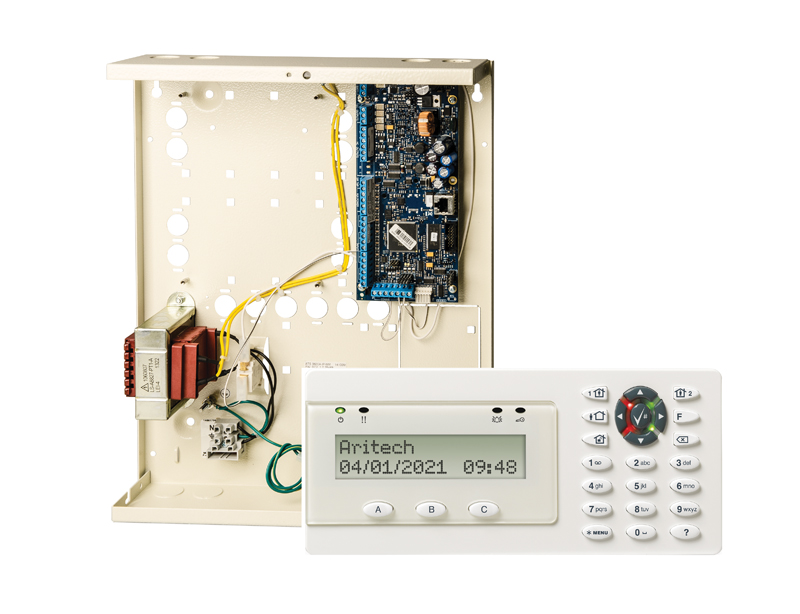 Aritech is the intrusion and video brand for Carrier. The Advisor Advanced alarm system comprises a range of devices to provide Grade 2 or 3 intrusion detection with the optional benefits of video support, access control and smoke detection notification. It is ideally suited to provide upgrades to legacy alarm system through its bus based wired device connections and wireless device support. In addition to Grade 3 compliance, the system has been CPNI, and 'Secured by Design' approved. The ATS3500 panel can support up to 128 zones (8 on board), 128 outputs (5 on board), 8 Areas, 16 keypads, 8 doors and up to 2000 users. For larger system requirements, the ATS4500 panel offers up to 512 zones.
Getting started
The main panel is enclosed in a sturdy metal box with plenty of room for cable termination and clearly identified full size terminal connectors. Keypads and peripheral devices are connected by a 4-wire bus comprising a 2-wire RS485 data link with 12v and 0v for power. The RS485 bus has a maximum run of 1.5km if the specified 4-core FTP screened cable is used, but this should be restricted to 800 metres if using legacy wiring. The data bus can be extended to 4.5km using ATS1740 active repeater / extenders.
The ATS1135 keypad has a tightly fitted cover so after removing the retaining screw, care must be taken when removing the top cover to avoid damaging the casing.
The bus connector is mounted into the rear panel and makes contact only when the case is closed. It is a 6-way terminal block as it also includes input and output terminals for optional Request to Exit and Door Lock control use.
Within the main panel, a fused terminal block is provided for the mains input which must be wired into a suitable secure supply.
An accessory pack includes 16 x 4.7KΩ resistors for terminating the 8 alarm input devices, a further 4.7KΩ for the Siren tamper circuit, 3 x 1KΩ for the internal and external sounder circuits, battery connection leads and the case tamper actuator with wall fixing.
The panel has keyhole slots at the top for ease of mounting and the door is arranged to hinge down when opened or can be easily removed for access. Additional slots and holes in the rear plate are available for mounting pillars supplied with various optional expansion modules.
Menu options
Once the input and sounder termination resistors are connected, at first power-up the keypad runs through its start-up routine and then a series of settings to establish the Installer and Supervisor pin codes. A range of UK and international alarm standards is offered as defaults to simplify the initial setup.
While the Aritech grade 2 default standard is for 4.7k / 4.7k termination resistors for each of the detectors, a wide range of alternative connection types and resistance values can be configured.
Read the full review in the June 2022 edition of PSI magazine online and in print