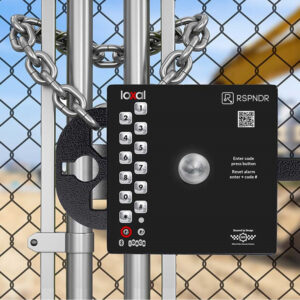 RSPNDR, the Canadian company that launched its alarm response service into the UK earlier this year, has announced that it has partnered with Loxal to integrate its digital access control systems into the platform.
RSPNDR uses an Uber-like platform that links into monitoring stations to collect alarm events and then pass details directly to the nearest available guard in their network. The guard is then guided to the site where they conduct checks, take photographs and report findings.
The partnership with Loxal means RSPNDR can now pass a unique, one-time use PIN to give the guard access to keys to enable internal inspections without compromising on the speed of the response or increasing cost.
"We are excited to leverage the benefits of Loxal's digital key safes and lock devices to expand our service offering in the UK," says Mark Zimmerman, CEO of RSPNDR.  "Key holder response has traditionally been slow and expensive. Integrating Loxal's intelligent digital locks into the platform for our guard network allows us to offer a faster service to customers."
"Combining our digital access devices with a new response service like RSPNDR is an exciting development for the UK market," says Loxal CEO David White. "Rapid response with secure key access from a national network should prove compelling."