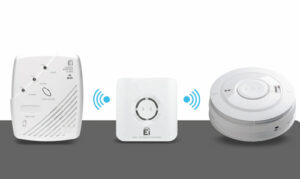 Knightstone Housing Group has announced a two-year programme to install Aico mains powered smoke and Carbon Monoxide (CO) alarms throughout its 11,000 homes across Somerset and the West of England.  The installation work will be carried out by Emmdee Electrical Services.
Knightstone's properties have a range of alarm types installed, but in order to meet the requirements of BS5839 Part 6 – the standard for domestic smoke alarm installation – the decision was made to standardise on mains powered smoke alarms with Lithium battery back-up, using Aico's new Ei160e Series.  In addition, Aico Ei262 mains powered CO alarms will be installed to meet the housing association's duty of care to its tenants.
Knightstone Housing will be working to an LD2 specification for the smoke alarms, which in most cases equates to three 160e smoke alarms and one heat alarm per property.  Up to three Aico Ei262 CO alarms will be fitted in each property, in the rooms where cookers, boilers and fires are fitted, following an individual risk assessment.  Ei450 wall mounted alarm controllers are also being installed for elderly tenants who might otherwise have difficulty testing the alarms.  This will enable them not only to test all alarms on the system, but also silence them and locate the source of the alarm from a safe, accessible location.
The alarms are being interconnected using Aico's RadioLINK+ wireless alarm interconnection technology which comes as a plug in module on the 160e Series of alarms, which has the added benefit of negating the need for a separate RadioLINK base, as was previously the case.  It is automatically activated ready to be House Coded in with the rest of the system.
Knightstone Housing has already made considerable headway with the alarm installation programme concentrating on those properties with no alarms or battery-only powered alarms initially, before focussing on replacing mains powered alarms that are reaching their natural end of life.