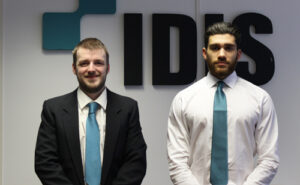 IDIS has announced the appointment of David Williams to the position of Internal Sales Support Executive and Boris Tomson as Technical Support Engineer based out of the company's European headquarters in Brentford.
Reporting to Lukasz Pitera, Head of UK Internal Sales, David is responsible for maintaining relationships with existing customers including organising training and product demonstrations. He will also be instrumental in supporting business development and is already playing a strategic part in local marketing initiatives. He brings with him a wealth of hands-on sales and marketing experience as well as security operations knowledge from previous roles at SECOM and Debenhams. Williams also holds a Chartered Institute of Marketing (CIM) Certificate from the Oxford College of Marketing.
Working alongside both the sales and technical teams, Boris is responsible for telephone support, technical demonstrations as well as delivering technical training for both integrators and end users at the dedicated training facility as well as on customer sites.