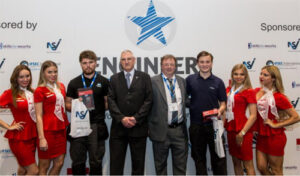 The Engineers of Tomorrow annual competition is now open for the fire and security industry's brightest young engineers to register their interest. Successful entrants will then be invited to pit their skills against each other in a live installation challenge at IFSEC International this June.
Each year more than 50 apprentice engineers participate in pairs to complete a 90-minute live challenge on the exhibition floor at IFSEC International, where they are then assessed by a panel of judges from the security inspectorates, NSI and SSAIB, and points are allocated based on performance in the various disciplines.
Heat winners and their employers will be invited to the Security & Fire Excellence Awards where the winner will be announced and awarded a £1000 cash prize.
Simon Banks, Group Managing Director at CSL DualCom Group, said: "The purpose of Engineers Of Tomorrow is to showcase the very best talent the security industry has to offer. It recognises the value of skills in our sector and for any Installers who have invested in an apprentice, the competition is a great opportunity to promote their competency on a World stage."
Engineers of Tomorrow is part of Apprenticeships for Fire & Security, an initiative that places apprentices into careers in the security industry and supports their development. Sponsored by IFSEC, CSL DualCom, NSI, SSAIB and Skills for Security, the scheme has already helped launch the careers of more than 3,000 young apprentices.
Prizes will be awarded to the top three pairs of engineers, with a first prize of £1000 provided by CSL DualCom, the second prize donated by NSI of a £500 Red Letter Day and finally a third prize of £300 supported by SSAIB.
More details or register here