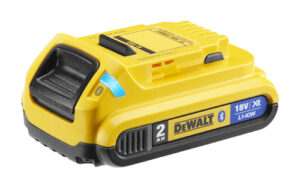 With smartphone technology being used increasingly by professional tradesmen to drive productivity and a more efficient way of working, DEWALT has expanded its XR Lithium-ion system with Tool CONNECT, a power tool battery with Bluetooth connectivity that provides an easy way to manage power tools.
Any power tool fitted with a DEWALT XR 18V Tool CONNECT battery pack (either 2.0 or 5.0Ah), may be paired to a mobile device up to 30 metres away via the Tool CONNECT app. The interface is designed to provide the user with one-touch access to a wealth of information, such as proximity of location, state of charge and temperature, as well as access to practical reference material.
Once paired via the app, batteries (and the associated power tool) can be located and identified. Rapid inventory checks can therefore be carried out at the start and end of a job to ensure that all batteries are fully charged, and are within the immediate vicinity. Forgotten or misplaced items can also be quickly identified without time consuming searches.
The "Lend" function of the app allows owners to keep track of tools loaned to an individual or a team. The app will automatically deactivate the power tool battery, and notify the owner following expiry of the agreed period of time. This can be a useful means of tracking for tools used by a team on large commercial construction sites, and also an effective way of managing vibration exposure time.
In the event of theft, or if the tool leaves a defined working perimeter, construction professionals can automatically disable the Tool CONNECT battery to prevent further use.
Tool CONNECT app users are able to tailor alerts to monitor the status and health of batteries. These include notification of a low state of charge, and a remaining run time indicator. The user can also choose to disable a battery when out of range, and be warned of a high operating temperature to prevent damage.
Chris Wayne, Product Marketing Manager UK said, "Time is precious at the end of a working day, and high quality power tools can be expensive to replace. The XR Tool CONNECT system allows professionals to quickly check if they have all of their tools accounted for, and also verify which, if any, of their batteries need to be charged overnight, ready for the next challenge."