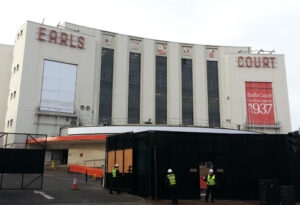 Demolition contractor Keltbray is ensuring the safety of its staff and visitors at a site in London with a wireless emergency system (WES+) from Ramtech Electronics.
The Earls Court exhibition halls are being demolished to make way for Capital & Counties new development of 7,500 homes, a new park and over £450 million of community benefits. Keltbray began the demolition by specifying a WES+ wireless fire alarm that was subsequently mounted on its wheeled fire stations.
A total of 64 call points and 64 automatic heat and smoke detectors are now fixed to the wheeled fire stations, which are positioned around the site. All the units are connected wirelessly to a central, monitoring base station. This 'trolley-ed' approach was only possible because the company's fire alarm system utilises wireless technology and is totally battery powered.
Nizelda Pretorius, Project Systems Manager at Keltbray said: "We mounted the fire call points along with the active heat and smoke detectors on our existing wheeled fire stations. Now all we have to do is simply wheel them to a new position as demolition progresses, and there is no need to worry about wires. The risk of fire on both demolition and new construction sites is an ever present danger. However, we are always confident that the network automatically connects to the monitoring base station wherever we position the units around the site."
"On a project like Earls Court we needed a fire alarm system that is capable of covering this vast site," said Bobby Gannon, Site Manager at Earls Court. "The interconnecting radio units made WES+ an easily scalable system."