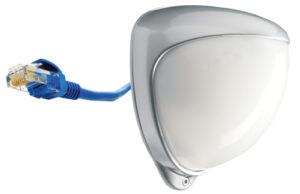 GJD has announced its D-TECT IP range, which includes PIR, microwave and anti-masking. Key benefits include increased detector alignment and set up options, genuine alarm capture and resistance to false or 'nuisance' alarms. Another benefit is remote diagnostic control of the perimeter boundary detection systems.
The range integrates with third party VMS providers and CCTV systems. Bosch VMS, Milestone Xprotect, Mirasys, SeeTec Enterprise and Probox are a few of the supported VMS software providers. Supported cameras for direct control currently include Axis, Bosch, Ernitec, Hikvision and Sony.
All of the IP detectors use Power over Ethernet connectivity, which enable cameras to be instantly directed to the location of intrusion; whilst security personnel are alerted with detailed alarm information. The detectors can be adjusted to suit different customer requirements including adjustable field of view, which helps avoid boundary overspill, saving both energy and costs.