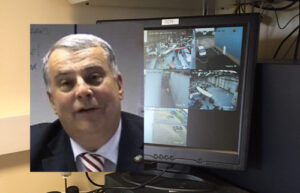 Stephen Rudge is the Chairman at Eurolink Security Installations. Located in Cheltenham with sales offices in Bristol and London the company offers services including a security consultancy, risk and threat assessment including the design, installation and maintenance of integrated security systems. Business accreditations include Fellow of the Institute of Directors, NSI Gold, ISO: 9001, Investors in People, SSAIB and holder of the Government Trusted Trader Mark.
Do you use a distributor or buy direct from manufacturers?
We operate our business mainly through the arrangement we have with our quality assured distributers.  We have good working relationships with Norbain, Lilin, ADI Gardiners and Oprema.
Is third party accreditation beneficial to your company?
Our third party accreditation is very important to us and we are very proud to have achieved the NSI Gold standard.  We strongly believe that standards within the industry need rising.  In order to assist this we are very strong supporters of NSI and as such I am the National Chairman for the NSI National Scheme and I am also Chair of the NSI Compliance Committee and as such audit the impartiality of NSI. We operate a quality assurance system and the third party certification is important to our clients.  Such certification and compliance ensures that our client's needs are met in a risk adverse and professional manner.  Third party auditing also ensures that we achieve the standards set out in our mission statement and customer charter.
What would be a typical project for you?
A typical project for us would be a total integrated system which would encompass various disciplines such as, CCTV, intruder alarm, access control and major incident response plans.  Our target market is based upon providing our customers with a "one-stop" security solution to all their requirements.  Our integrated proposal would include elements not normally associated with a NACOSS certified installation company, for example terrorist threat planning, security risk management and any other services that are appropriate to a total integrated security plan.
Whilst our core business is UK based we have operated globally for example, South Africa, Oman, and Kuwait at government level.  We also provide UK monitored domestic CCTV and intruder security systems for UK citizens based overseas, for example we have just finished a project for clients in Spain and the USA.
We have found that our "one stop" shopping approach allows our clients to deal with one company with all the relevant skills "in house".  This approach has proved to be productive.
As an example of a recently completed project RGV Aviation represents our target customer.  RGV Aviation is a service provider for the servicing and maintenance of private aircraft in line with the Civil Aviation Authorities requirements.  This project was a "Design and Build" project relating to their new National Service facility at Staverton, Gloucestershire Airport.  The project encompassed CCTV, access control, security alarms, terrorist threat assessments and various other factors relating to the land side and air side areas.
Are there any common requests from customers that give you problems?
Our customers provide us with problems on a daily basis, these problems are generally due to misunderstanding as to the capabilities of the various security systems.  Such misunderstanding is enhanced by the television programmes indicating impossible and unrealistic security solutions.  This misunderstanding is enhanced when the programme in loosely based upon fact, and example of such a programme is Scorpion. The programme is excellent entertainment but does not portray security system technology in an accurate manner.  It is also a problem explaining to clients that a camera from a ISOEN 50132-7 CCTV system is not the same as a camera purchased on the internet for as little as £10. The security industry constantly sells itself short.  A designed compliant system should carry a cost premium.
Read the full interview in the June 2016 edition of PSI magazine