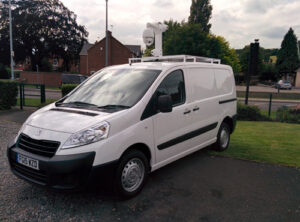 When Mercury Fire & Security was asked to create a mobile CCTV solution for Magpie Security, it turned to Hikvision to confront the triple perils of dust, vibration and the British weather.
The new system can be spotted in the Nottingham area: a pair of surveillance vans deployed with guards to patrol sensitive and high risk sites where a strong security presence is required. The vans feature Hikvision cameras and network video recorders and Mercury also installed a solar panel and batteries to power the system without continuously running the vehicles' engines and sourced a 3G router from Eseye Communications. Depending on the success of the project over an initial trial period, the new solution will be rolled out to additional vehicles in the near future.
Both vehicles are fitted with 4 HD turret cameras, with one van also equipped with a PTZ camera and NVR to act as a kind of mobile HQ. But this equipment faces an environmental and durability challenge far beyond the majority of conventional stationary CCTV solutions.
Lewis Foster, General Manager at Mercury Fire & Security, says: "Being vehicle mounted, the cameras and recorder are obviously in a harsh environment. The vehicle is expected to still drive at 70mph, to withstand the usual potholes and speed bumps, and to be operable 24 hours a day. Vibration is the main challenge with this setup but, so far, the Hikvision cameras have withstood several months without a hiccup. Obviously the large PTZ camera that we fitted is a little more delicate and so, for reliability, this is strapped during transit. In any case, it has been very reliable and performed faultlessly.
"Magpie Security requested internet access to the cameras meaning a capable 3G router was required and this streams the video live to guards on site on their mobile phones so they can patrol and still utilise the vehicle. Fortunately the IVMS-4500 app allows this to securely be easily set up on a number of guards' phones."
Lewis says each vehicle is equipped with four DS-2CD2332-I turret cameras. "In trials, we found that dome cameras can suffer from reflection of the IR but the turret cameras are absolutely perfect. They're sealed, so there's no risk of moisture getting into the camera, they're easily adjusted if necessary. They give 360 degree coverage around the van and ensure nothing is missed while tracking with the PTZ for further detail."
"We were confident that the turret cameras themselves would withstand any vibration and so we have mounted them securely to the vehicle using standard brackets mounted to a bespoke frame created especially for the vehicle. The NVR is a little more sensitive due to the hard drive, so foam insulation was placed around the NVR to offer some cushioning during motion. Care was taken not to block up the vents in the NVR and this solution has proved to be very reliable.
"All the CCTV equipment is powered through an inverter, including the on-board 40 inch monitor that gives a great view of all the cameras."