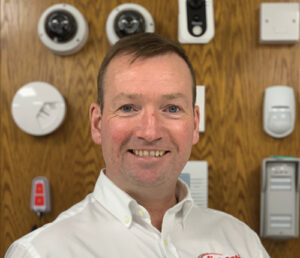 Paul Garry is Managing Director at Fire Action in Sidcup, Kent. Areas of expertise for the company are fire alarms, CCTV, access control, intruder alarms, disabled refuge, video entry, extinguishers and a wealth of complimentary fire safety and security services. Accreditations include BAFE SP203, BAFE SP101, NSI Silver, BSI Kitemarked for Fire Alarm Installations, ISO 9001: 2015 and Safecontractor Approved.
What would be a typical project for you?
A reasonably sizeable installation where we design, supply, install, commission and handover a fire alarm system, CCTV, intruder alarm and access control systems.  For example, we have very recently completed this kind of work at a brand new academy building in Purfleet, Essex.
What is the best thing about working in security?
The diversity of our clients, their sites and their fire and security needs.  I've been to some incredibly interesting places in my time in this industry.
Is third party accreditation beneficial to you?
Absolutely, and it is gaining recognition and perceived value.
Do you think there is a skills shortage in the industry? Any trouble recruiting?
This is currently an absolute nightmare!  Ill trained, ill prepared and ill qualified individuals being touted and offered by recruitment agencies for vast sums of money, and yet they have no tangible skills coupled with lousy attitudes and dreadful work rates.  We now "grow our own" engineers.
Are there any common requests from customers that give you problems?   
To be fair, the devil is in the detail, and I'm pretty sure that more often than not we have been really proactive in pre-empting any demands and therefore issues!
Read the full interview in the February 2020 edition of PSI magazine